By Taylor Morris
Originally from Mississauga, Toronto, Cooper Stanley has been playing baseball since the young age of 4-years-old. Fast-forward to the present, Stanley is now a senior majoring in mass communication, heavily involved in the baseball program at Northwestern Oklahoma State University and getting to graduate.
"Baseball is what brought me to Northwestern, but it was the communications program offered here that made it easy to choose between other baseball programs and here." Stanley said.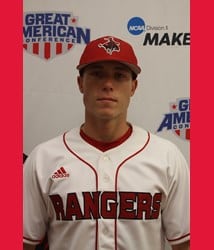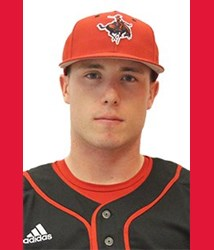 He said he feels Northwestern's athletic department does it's best with what it's given. Additionally, he believes the athletic program as a whole is in rebuild, and if the right moves are made the university will be a dominant program in the Great American Conference soon.
Just three weeks ago Stanley conquered the plate and earned him the Great American Conference Player of the Week honors and that honor was actually the first of the season for the Ranger baseball team. Stanley led Northwestern's Rangers to arguably the best week of the season, as the team sported a solid 3-1 week, sweeping GAC rival Southern Nazarene University in the process.
When Stanley prepares himself for a big game he makes sure that he has a good meal in him, makes sure he gets in some good batting practice before the game, and clears his mind of any stress he may have going on. He said the best part about the game is getting that base hit because to him it's a kind of natural high that is comparable to nothing else.
Although he occasionally gets homesick from being away, it is something that he has been able to become accustomed to.
Nonetheless, the person in his life that motivates him in the classroom and on the field is his girlfriend of four and half years, Shelby Weldon. Weldon is in nursing school in Texas and she gave up softball to be in nursing school.
"Seeing all the hard work that she puts in academically and the sacrifices she's made to do what she loves makes me cherish what time I have left on the field and in the classroom," he said.
Stanley, as well as several other seniors this semester are gearing up for a very special day this coming week, graduation. After college Stanley's plans are to move to Dallas with his girlfriend.
He also plans to start a career in some form of communication that is hopefully sports related. In a perfect world, he would want to be a sports reporter in the television industry.
Although Stanley is leaving Northwestern soon, he truly feels that he has met a lot of great people and has had the opportunity to build relationships with some of his teammates that he will take away from his time in college for a long time. Also, he believes that he has been lucky enough to play a lot of baseball for the two years he's attended Northwestern.
Stanley has parting advice for any high school athletes coming to college and juggling sports and school.
"Pace yourself. It's a long four years; if you do it right it'll be the best four years of your life. But make good choices, meaning practice the right way, study the right way, and stay out of trouble.
"I've seen too many talented athletes drop out because they fell behind in school or made some stupid decisions. It's easy to have a good time and graduate in four years, if you use your head. "