From NWOSU Sports Info.
Jay Lee, Sports Information Director
ALVA, Okla. – A high-flying performance by Northwestern Oklahoma State brought Langston down in a 3-1 match (25-16, 21-25, 25-18, 25-16).
The entire Ranger team contributed to the success, with a hitting percentage of .287 and 51 kills. Northwestern recorded 16 more kills than the Lions in the match. With the win, the Rangers have already tied their wins from a year ago with only eight games under their belts.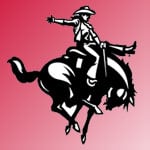 Not only did the home team dominate in the kills department, but also owned the net with 15 combined blocks on the evening.
Two Rangers really shined throughout the match with Asia Pipkin hitting .286 with 15 kills, while Ashanti Banks lit it up as well with 14 kills while also hitting a stellar .385.
The first set of the night started off in back-and-forth action between the two teams, but a 9-1 rally by the home team forced Langston to take a timeout with the Rangers up 12-6.
A couple of mini runs by the black-and-red led to the set one victory in a nine-point game.
The next game of the match was a little different with the Lions taking control early and going on an 11-4 run to begin the second set. Northwestern had a couple of runs that actually led to the lead at 18-17, but the guests were able to fight off the Rangers for the 25-21 set.
The second set lit a fire under Northwestern as they went out and owned the third set of the match winning in convincing fashion 25-18.
Langston didn't go quietly to begin the final set of the night while actually starting it off with an 11-9 lead, but Northwestern was just too much for the visitors in the end. A 16-5 run by the Ranger squad closed the door on the hopeful Lions to end the night.
Northwestern is home again on Thursday where they will begin conference play against East Central (1-10) at 6 p.m.