From Red River Athletic Conference
Darin David, Sports Information Director
Entering the 18th year of its existence, the Red River Athletic Conference is making a logo change for the first time when it introduced its new mark on Monday. The logo is the first step in the conference's rebranding campaign, which will continue throughout the 2015-16 academic year.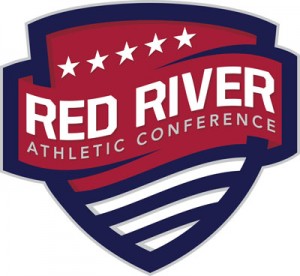 The design of the logo encompasses various qualities of the RRAC. The five stars represent the tenets of the NAIA Champions of Character program, while the wavy font and stripes relate to the river that stretches across the four states the RRAC encompasses. While red is naturally the most dominant color, it is a deeper red to more closely match the mud in the namesake river. The RRAC's blue was changed to navy to convey integrity (character), while red signifies power (athletics). The overall look is undeniably American.
"We're excited to open a new chapter in the history of the RRAC," said Commissioner Tony Stigliano. "We continue to build on the history and success of our conference while looking forward to new marketing and social media opportunities. Our new logo will convey our emphasis on being a Conference of Character while providing a bolder, more dynamic look to better reflect our image."
In addition to the conference's primary mark, there will be 12 individual logos in school colors for each member institution in the RRAC. A secondary logo is also in development, and the conference's new tagline will be revealed this fall. The RRAC will launch a redesigned website in the next month.
The RRAC hired Dust Bowl Artistry to design the new marks and brand guidelines. Dust Bowl Artistry, based in Fort Worth, Texas, is dedicated to creating athletic marketing and promotional materials (full campaigns, branding, print, digital, social media, font/true type creation and animation/video) for universities and athletic organizations across the nation.
The RRAC is an affiliated conference of the National Association of Intercollegiate Athletics with 12 member colleges and universities in Texas, Oklahoma, New Mexico and Louisiana. Established in 1999, the RRAC sponsors 15 championships annually in eight women's sports and seven men's sports. Due to its commitment to character and sportsmanship, the RRAC has been recognized as a Five-Star Conference under the NAIA Champions of Character program.