Rogers State didn't get to participate in postseason activities in 2015-2016, as a part of the final year of the transition to NCAA Division II.
But the teams still competed hard, paving the way and setting standards of excellence for future Hillcat teams.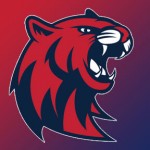 That's exactly the competitive spirit the men's basketball team showed in its quest for a regular season Heartland conference title. And after a tough league schedule had been almost completely played out, the conference race came down to RSU, Dallas Baptist and Arkansas-Fort Smith at the top of the standings, with each team playing the other two in the final games.
If the Hillcats could win out, they would win the Heartland.
Senior J.C. Hartzler led the way with 24 points as the Hillcats took care of UAFS in Fort Smith, 72-59. Then RSU traveled to Dallas two days later for the season finale.
The Hillcats and Patriots played in an epic contest that was tied 17 times and at the end of regulation. And again at the end of the first overtime.
With the score tied one final time at 94-apiece and time winding down, senior Donald Moore made his final shot in a Hillcats uniform as he drained a three-pointer from the right wing with 2.1 seconds left in the second OT. Rogers State won. 97-94, and claimed its first men's basketball program's first D-II conference crown.
The five RSU seniors played their parts in the win. Moore finished with 16 points and the game-winner. Hartzler had a game-high 38 points. Also in double figures were Robert Johnson with 15 and Travis Julien with 10. Corey Ayala had a near double-double with eight points and eight rebounds.
Top 10 of 2016 – No. 10: Miller rides into Rangers' record books
Top 10 of 2016 – No. 9: Garcia dominates D-II discus world
Top 10 of 2016 – No. 8: OCU softball rolls to ninth national title
Top 10 of 2016 – No. 6: Wortham scores six – six times – on the way to the top
Top 10 of 2016 – No. 5: Sooners sweep gymnastics titles
Top 10 of 2016 – No. 4: Moon shines on perfect night
Top 10 of 2016 – No. 3: OCU earns three national championships in Daytona
Top 10 of 2016 – No. 2: Heath's walk-off grand slam gives OBU a national title
Top 10 of 2016 – No. 1: Big Mann on Campus