Central's Mariah Garcia excels in the weight throw and the shot put in field events, but she made her mark in the record books this year with the discus.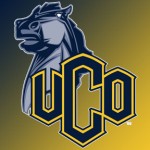 The then-sophomore became UCO's first-ever NCAA Division II outdoor national track and field champion, as she won the discus title with her next-to-last of six throws on the day. She won the title with a 172-foot-8 throw.
Interestingly enough, that was far from her best toss of the year.
Before she won the national title and the MIAA title, Garcia won the John Jacobs Invitational in Norman. Her winning discus throw went 192-foot-8. The toss was not only the best in Division II on the year, it also set a new record for discus throw in the state of Oklahoma on any collegiate level.
Top 10 of 2016 – No. 10: Miller rides into Rangers' record books
Top 10 of 2016 – No. 8: OCU softball rolls to ninth national title
Top 10 of 2016 – No. 7: Hillcats take Heartland title
Top 10 of 2016 – No. 6: Wortham scores six – six times – on the way to the top
Top 10 of 2016 – No. 5: Sooners sweep gymnastics titles
Top 10 of 2016 – No. 4: Moon shines on perfect night
Top 10 of 2016 – No. 3: OCU earns three national championships in Daytona
Top 10 of 2016 – No. 2: Heath's walk-off grand slam gives OBU a national title
Top 10 of 2016 – No. 1: Big Mann on Campus