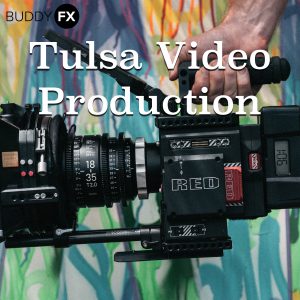 Buddy FX specializes in Tulsa video production. Their team includes talented individuals who have flourished in sound engineering, acting, directing, producing, and marketing. Now, this team has come together to provide quality professional video services from Tulsa and the surrounding areas and states.
Buddy FX usually focuses on micro-documentaries, commercials, testimonials, and event videos. You can see their involvement in local outreaches and movements like Tulsa's Global Entrepreneurship Week, Foundation for Tulsa Schools, and TYPROS, a movement encouraging young people to vote.
They showcase Tulsa's staple events like Tulsa At SXSW and the Hop Jam. If you're from the Tulsa area, then chances are you've seen their work somewhere.
Areas of Focus:
Tulsa Video Production
Drone Videos
Business Videos
Event Videos
Corporate Videos
Commercials
Micro-Documentaries
Testimonials
Buddy FX caters to non-profits and businesses. Whether you're looking for a commercial to advertise your services or a testimonial video to inspire people to act, Buddy FX knows how to produce the video you need. They are a Tulsa video production team that will be meticulous in editing in order to have the video fit your vision.
Buddy FX has produced quite a few music videos, always making content that holds the ambiance of the song being recorded. Buddy FX also provides social strategy consulting and logo creation, creating a unified voice throughout your marketing.
If you're interested in this Tulsa video production company, call today!
918-805-1801
Want to know more about local businesses? Click here.