Stokely Event Center | Tulsa Wdding Reception Venue
Stokely Event Center is one of the best Tulsa wedding reception venues available! Their venue is truly one of a kind with over 300 nostalgic Tulsa signs, Route 66 decor, and tons of arcade games unlocked for free play. One of the best parts about Stokely Event Center is that they cater to all kinds of events for groups of all age ranges.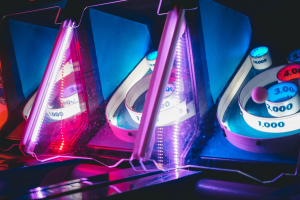 Types of Events
Here are just a few of the types of events that would be great at Stokely Event Center:
Wedding Anniversary Celebrations, Tulsa
Wedding Ceremonies, Tulsa
Corporate Events, Tulsa
Office Parties, Tulsa
Family Reunions, Tulsa
Birthday Parties, Tulsa
Sports Ceremonies, Tulsa
Graduation Parties, Tulsa
Holiday Parties, Tulsa
Types of Amenities 
Stokely Event Center also boasts a wide range of amenities to take care of your party needs:
Free Arcade Games
Expandable Space
Tables & Decoration
Soda Fountain Drinks
Open Catering
In-House Sound System with Mic
Projector and Screen
Included Cleanup
The professional team at Stokely Event Center are always ready to help bring the event of your dreams to life. With years of experience pulling off great events for all kinds of special occasions, they have a wide range of knowledge that can help you throughout your event planning process. If you're interested, Stokely Event Center offers tours of the facility upon request.
Contact Stokely Event Center
Stokely Event Center
(918) 600-4448
10111 E 45th Pl,
Tulsa, OK 74146