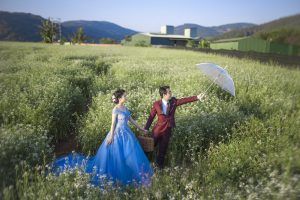 Based in Georgia, You Are Raven is an Atlanta Wedding Photographer dedicated to helping you be you on your big day! You Are Raven tends to shy away from prim and proper in order to embrace true, valued, and unique emotions and events.
If you want to break out of the tradition of the overly-structured and posed wedding pictures you see all to often online, You Are Raven is the photographer for you. Her pre-shoot planning sessions help her to get a grasp of what you want out of your shoot.
While the world may try to make you conform to their standards, You Are Raven is all about showcasing your true self. This Atlanta wedding photographer wants to demonstrate your raw, real, and ecclectic self to the cameras and to the world.
Areas of Focus
Atlanta Portrait Photography
Non-Traditional Wedding Photography
Alternative Photography
You Are Raven is dedicated to providing you with a photoshoot that will make memories to last a lifetime. If you're looking for something intimate, embracing, and fun, You Are Raven is the photographer for you.
You Are Raven
3865 Deaton Rd, Flowery Branch, GA 30542
470-865-0391