Twist N Turn Dryer Vent Cleaning Is Tulsa's #1 Tulsa Dryer Vent Cleaner!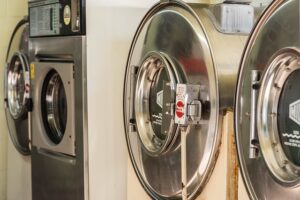 Safe homes. Dry clothes. Happy customers. That's our motto at Twist N Turn Dryer Vent Cleaning, and we are 100% dedicated to that promise in every step of the way with our customers. In 2016, owners Jeremiah and Megan Harris began this Tulsa Vent Cleaner with a vision of challenging the standard for the dryer vent cleaning industry. Jeremiah had over 20 years of industry experience sweeping chimneys, cleaning air ducts and dryer vents, and over the years, he noticed that no one in the area specialized in dryer vent cleaning.
Although many companies did offer dryer vent cleaning, it was only offered as an additional service, and the cleaning was only focused on the dryer vent inside of the wall. The connection hose and the dryer itself oftentimes were full of lint, which is a major fire hazard concern for homeowners and property owners. Thus, Twist N Turn Dryer Vent Cleaning was born.
Twist N Turn Dryer Cleaning is Tulsa's #1 Dryer Vent Cleaning Specialist, offering full-service dryer vent cleaning to the greater Tulsa area. As a dryer vent specialist, our focus is on everything to do with dryer vents. TNT offers cleaning service and also does dryer vent repairs, re-routes and installations.
Areas of Focus
We offer the following services at Twist N Turn Dryer Vent Cleaning:
Residential Dryer Vent Cleaning
Commercial Dryer Vent Cleaning
Dryer Vent Repair
Vent Hood Installation
Booster Fan Installation
Bird Guard Installation
Dryer Vent Reroute
HVAC Viewing and Documentation
Learn More About Twist N Turn Dryer Vent Cleaning
Get in touch with us using the following:
3064 N Aspen Ave Suite #115
Broken Arrow, OK 74012
(918) 605-8953
tntdryervent@gmail.com