Stu B Que | Broken Arrow Catering
Are you looking to host an event in Broken Arrow, Oklahoma, but are not sure what Broken Arrow Catering company you should use? Well, if you are looking for great food, great service and a quick clean up afterwards, then Stu B Que is who you should call.
Who is Stu B Que?
Stu B Que is a Broken Arrow Catering Company, who specializes in barbecue food, but also provides many other options for those not looking for BBQ at their next event. When you order catering services through Stu B Que, you are not only ordering food, but a full-on catering service.
Stu B Que cooks your custom catering menu in house, delivers them to your indoor or outdoor event, and provides you will a full serving service and clean up. They are the all-around best option for any Broken Arrow catering event.
Broken Arrow Catering Menu
As mentioned above, Stu B Que specializes in their BBQ combos, but offers many other food types. If BBQ is not your thing, they also offer Pot Roast, Fajitas, Seafood, Italian and Holiday Combo options. If you are planning your event to be around breakfast time, they also offer items like Biscuits and Gravy, Burritos, Pancakes, French Toast, and other standard breakfast foods.
In addition to combos, Stu B Que also offers sides, such as Pasta Salad, Potatoes (of many varieties), veggies, and much more. And if that is not enough to fill you and your guests, Stu B Que offers a variety of different flavored cobblers. Those flavors are Peach, Blackberry, Cherry, Apple and Strawberry.
If you would like to see a more in-depth menu on what Stu B Que has to offer you for your Broken Arrow Catering service, you can always check out their full menu.
Broken Arrow Catering Events
Just as Stu B Que offers a variety of food options, they also cover a wide range of catering events. Their goal is to provide you will delicious food and excellent service, no matter what event you are hosting. But, if you must know what their most common catering events are, they go as follows: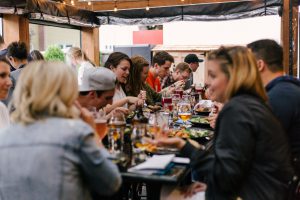 Corporate Lunches
Family Reunions and Picnics
Tailgate Parties
Wedding Rehearsal Dinners and Receptions
Church Luncheons and Dinners
Club Luncheons
Weekend Corporate Getaways
and Holiday Events
Stu B Que Broken Arrow Catering
Stu B Que catering service covers all aspects of catering, from helping you build your custom menu, to cooking that menu and delivering it, to even providing full service serving and cleanup. If you need any type of Broken Arrow Catering, Stu B Que can do it for you.
When you host an event, there are plenty of steps to keep you busy, such as choosing a location, inviting guests and decorating. Stu B Que understands this and helps take all the food type steps off your hands. This allows you to greater enjoy your event and spend more time with your family, friends and colleagues.
If you have any further questions as to how Stu B Que can assist you with your Broken Arrow Catering, contact them today! They are always happy to help, however they can.