OBU Sports
Casady Fletcher, Assistant Director for Athletics Communications
SHAWNEE – Oklahoma Baptist won the National Christian College Athletic Association Men's Outdoor Track & Field National Championship Saturday for the second consecutive year.
The Bison finished with 182 points for the three-day meet at the Hurt Memorial Track, defeating Dallas Baptist and Greenville in second place with 113 points each.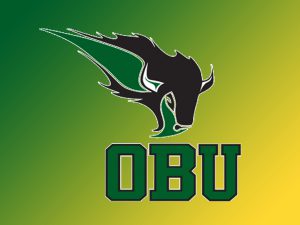 "We just didn't know exactly what to expect from the guys," said Head Coach Ford Mastin. OBU faced injuries to some key members of the team in the weeks leading up to the national championships.
"There's been some disappointment because of injuries and there's been guys that are a little bit disappointed with the way things went this weekend. However, I think they're bonded enough as a team that there's some joy."
OBU won five events for the week and Andrew Worley set a new NCCAA record for points in the decathlon.
Jordan Patterson captured his second championship of the meet, winning the long jump with a distance of 23-6.75. Tanner Profice finished seventh at 21-6.
Blaine Whitson took first in the 5000 meter run, finishing in 15:16.41. Whitson also finished runner-up in the 3000 meter steeplechase in 9:29.50.
Jacob Cochran was fourth in the shot put after a throw of 46-1.25.
A team of Andrew Worley, Devontrae Young, Brandon Crowley, and Brett Shovanec ran the 4×100 meter relay in 43.51, finishing seventh.
In the 1500 meter run, Nathan Crowson (3:59.09) finished second and Garrett Elmore (4:00.72) was fifth.
Crowley (14.97) finished second in the 110 meter hurdles, with Cayden Spain (15.16) and Dakota Kappelle (15.58) finishing fourth and fifth, respectively.
Kappelle was runner-up in the 400 meter hurdles in 54.76 and Christopher Walker finished fourth in 55.01.
Matthew Giudice was third in the 400 meter dash at 48.17 and Clayton Honeycutt took fifth in 48.92.
Young registered a seventh place finish in the 100 meter dash (10.94) and was second in the 200 meter dash (21.37).
Carlos James took second in the 800 meter run after a finals time of 1:54.57.
In the final event of the meet, a relay team of Crowley, Honeycutt, James and Giudice finished third in the 4×400 meter relay with a finals time of 3:14.01.
This marked the fourth straight NCCAA championship for the team after winning the last two indoor and outdoor championships. OBU has seven men's track and field national championships in program history.
"There was a lot of pressure on both our girls and guys, because in Houghton, New York, they gave us the wrong medals," said Mastin. OBU was accidentally awarded the outdoor championship medals in February when the teams swept the indoor championships at Houghton University. "So I've had that little extra pressure to not have to collect the medals and send them back, just saying 'let's win it guys and girls,' and they did."