The defending NAIA national champions and top seed in their bracket were taken to the wire by the No. 8 seed in the first round of the 2015 NAIA national tournament.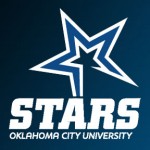 Ouleymatou Coulibaly made two free throws with 0.3 seconds on the clock to secure a 63-61 win for OCU over Lewis-Clark State (Idaho) on Wednesday in Independence, Mo.
The Stars (26-2) shot only 33 percent from the field and a dismal 52 percent from the free throw line in a contest it led by 25 points in the second half.
The Warriors did not give up trailing 53-28 with just less than 14 minutes remaining and found a way to claw back in. The Stars' second unit was not able to hold the large lead and LCSC used second chance opportunities to chip away at the lead.
Lewis-Clark State used a 29-4 run to tie the game at 57 with 3:22 remaining. But Coulibaly, who had only nine points in the game, scored clutch points in the closing minutes to help her team survive and advance.
Rateska Brown, the Sooner Athletic Conference Player of the Year, scored game-high 24 points. Yvonte Neal had 15 points in the win.
Oklahoma City moves on to face Shawnee State (Ohio) on Friday at 10:45 a.m.