Oklahoma City has won the last five Sooner Athletic Conference titles and is the favorite in 2014-2015 to take the conference crown again.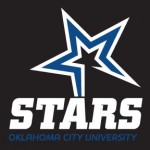 OCU tallied 90 points in the SAC preseason coaches poll and nine of 10 first-place votes.
The Stars are the defending NAIA national champions.  Coach Latricia Trammell said she is pleased with the respect shown her team.
"It's something that we never take for granted," Trammell said.  "It's an honor to be ranked No. 1 in your preseason poll because you know the coaches are voting for that.  And it's nice to see what the other teams in your conference feel about you.
"But like our girls said, we want to take this opportunity and privilege and work extremely hard to try to keep that No. 1 ranking and don't take anything for granted."
John Brown is coming off a spectacular season as well, making it to the national semifinals where the Golden Eagles lost by two to OCU, and received the other first-place vote.
Preseason rank

School

Points (First place)

2013-2014 record
(SAC record)

1.

Oklahoma City

90 (9)

27-4 (18-2)

2.

Oklahoma Baptist

78

29-6 (17-3)

3.

John Brown

76 (1)

28-8 (15-5)

4.

Wayland Baptist

68

20-12 (16-4)

5.

MACU

57

17-13 (11-9)

6.

Texas Wesleyan

49

15-16 (9-11)

7.

SAGU

44

14-18 (8-12)

8.

Southwestern Christian

32

11-19 (8-12)

9.

USAO

25

5-19 (4-16)

10.

St. Gregory's

22

4-25 (2-18)