OKLAHOMA CITY – Top-seeded Florida found itself in unfamiliar territory having to play from behind against a stingy Auburn team that was one loss away from elimination but found a way to win in extra innings. Nicole DeWitt provided ninth-inning heroics via a walk off single to give the Gators a 3-2 win, punching their ticket to the Championship Series in the process.
Despite gaining a 1-0 advantage in the bottom of the third, Florida saw its lead evaporate after Branndi Melero hit a two-run single to centerfield in the fourth. The Gators were able to tie the game in the bottom of the inning courtesy of a low shot over the left field fence by Taylore Fuller to start off the inning.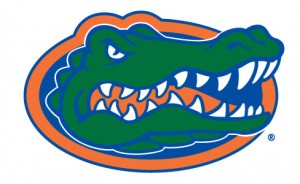 Both teams saw their offenses stall out following the brief flurry of offense, with the teams combining for 20 runners left on base, including 12 for Auburn. The Tigers were able to negate most of their lack of finishing at the plate with stellar defensive plays, including three double plays, including a fantastic throw down at home from centerfielder Morgan Estell to force a ninth inning.
In the pivotal ninth frame, the Gators relied on the youth of sophomore Justine McLean and freshman DeWitt to earn the victory. After advancing to second on a wild pitch, Dewitt sent a looping hit to shallow left field in the perfect spot for the speedy McLean to beat the throw home.
Lauren Haeger went all nine innings for the Gators in the victory. Despite giving up 11 hits, Haeger and the defense gave up just two earned runs while the senior ace also recorded six strikeouts. Opposite Haeger was Lexi Davis, who went 7.1 innings and gave up four hits and two runs but walked eight batters. Marcy Harper was credited with the loss for Auburn.
The Gators picked up just five hits in the game, with no player recording more than one hit. McLean went 1-3 at the plate, and had a game-high two runs scored. The Tigers had three batters go 2-4 at the plate: Carlee Wallace, Tiffany Howard and Estell.
With the victory, Florida has secured the right to defend its national title in the 2015 Championship Series beginning Monday night at 7 pm against the winner of Louisiana State and Michigan.