OBU Sports
Casady Fletcher, Assistant Director of Athletics Communications
SHAWNEE – For the second year in a row, Oklahoma Baptist was crowned champion at the National Christian College Athletic Association Women's Outdoor Track & Field Championships Saturday at Hurt Memorial Track.
The Lady Bison dominated the meet, setting a new NCCAA championship record with 249.5 points and surpassing the previous record of 232.5 points set by Malone in 2000. Roberts Wesleyan finished second with 97 and Dallas Baptist took third place after totaling 80 points.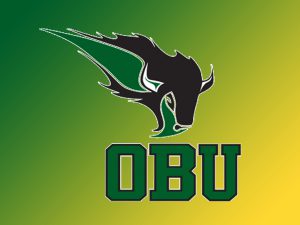 "That was fun watching our seniors end the season on a high note. They've worked hard all year long, they've been productive, and it's just been awesome. I am going to miss them, I love this group and it was great," said Head Coach Ford Mastin.
"Everyone had their job to do and their role to play and it got done. It's just exciting. There's a few sad people, but maybe that will help them train harder and get back on top. I'm really happy with them."
Over the course of the three-day meet OBU won 10 events, set two new facility records, and broke one NCCAA record.
Kya Barnes won the 400 meter dash in an NCCAA-record time of 54.52. Abigail Mayfield finished third in 56.76 and Breanna Hurlbut was fourth in 57.30.
Kaylee Large set a new facility record in the 5000 meter run, winning in 17:31.51. Emily Sechrist was fourth with a time of 18:06.94.
The women's 4×800 meter relay team also broke a facility record Friday.
"To get a facility record here when we've had some many good athletes from this whole area from all those schools… It's great to get facility records," said Mastin. "That's something a guy can be proud of a long time, and we had a few of those."
Sechrist won the first track event of the day, taking the 3000 meter steeplechase in 10:58.87.
Leah Molter won the 400 meter hurdles in 1:01.60, with Tia Coleman (1:03.75) and JoziRose Mayfield (1:05.25) taking third and fourth, respectively.
Kim Mead was crowned the long jump champion with a distance of 18-7.75. Sydney Long finished fourth in the event at 18-1.75.
A team of McKae Mitchell, Shariah Anderson, Candis Rodgers and Molter won the 4×100 meter relay in 47.21.
The Lady Bison completed the sweep of all three relays with a victory in the 4×400 meter relay to end the day. Mitchell, Abigail Mayfield, Hurlbut and Barnes won with a 3:44.44 finish, dominating the rest of the field by over 14 seconds.
Jennifer Baker finished fourth in the discus at 124-05. Brittany Poe was sixth in the discus (122-06) and third in the shot put (40-11). Mead took fourth in the shot put at 40-1.5.
Molter was runner-up in the 100 meter hurdles by .001 seconds, finishing in 13.93. Lacey Herbert took third in 14.89.
Three Lady Bison competed in the 100 meter dash and 200 meter dash finals. Mitchell took third place in the 100 meters (12.22) and second in the 200 meters (24.35). Rodgers was sixth in the 100 (12.48) and 200 meters (25.12), and Anderson finished seventh in both the 100 (12.49) and 200 meters (25.42).
OBU dominated the 800 meter run, taking five of the top eight spots. Destinee Allen was runner-up in 2:13.22 and Tesa Potter finished third with a time of 2:15.73. Kysha Miller (2:16.45) had a fifth place finish, Sarah Gilstad (2:17.55) was seventh and Shimoya Currie (2:19.26) took eighth place.
This marks championship number 12 for the women's track and field program and the fourth outdoor championship, all coming with Mastin at the helm. It was the second straight year for the Lady Bison to sweep the NCCAA indoor and outdoor meets, running their total to four straight championships as a program. OBU also claimed a championship on Bison Hill for the first time in school history.
"I was worried because I felt like there would be the familiarity [competing for a championship at home]," said Mastin. "They showed up on time, they did what they were supposed to do, followed instructions. It's a fun group to be associated with, they make us want to be better coaches; I really enjoy them."