OCU Sports
Rich Tortorelli, Assistant Athletic Director for Communications
CLERMONT, Fla. – No. 1-ranked Oklahoma City University topped Corban (Ore.) 2-0 on Tuesday evening in the NAIA Softball World Series at Legends Way Ballfields.
The defending national champion Stars (67-1) landed a spot in the national championship game 4 p.m. CDT (5 p.m. EDT) Thursday. OCU will play for its second consecutive national title and 10th national crown.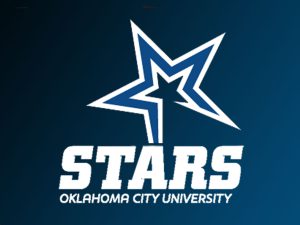 Oklahoma City reached the national final for the 15th time in 30 World Series trips. OCU has captured national championships in 1994, 1995, 1996, 1997, 2000, 2001, 2002, 2007 and 2016 and finished as national runner-up in 1986, 1993, 1999, 2010 and 2012. All World Series games will be broadcast live via the NAIA Stretch Portal.
Georgia Wall threw a one-hit shutout against 14th-ranked Corban (45-12). Wall, a sophomore from Marlow, Okla., retired the first seven hitters she faced before Raimee Sluder had a base hit with one out in the third inning. Corban failed to reach base against Wall the rest of the night.
Wall improved to 32-0 with her 12th shutout and 25th complete game of the year. Wall has gone 60-1 in her OCU career. Wall's lone loss came 1-0 to Saint Xavier (Ill.) on May 30, 2016 in the World Series. The Stars bounced back with five consecutive wins to take the 2016 national title.
OCU pushed across both runs in the top of the first inning. McRae Cayton laid down a squeeze bunt that Corban pitcher Sabrina Boyd fielded as Kali Pugh scored from third base. Laci Joyner drove in the Stars' second run with an infield hit to third base to bring in Jaci Smith.
Pugh ignited OCU's offense by smashing a leadoff double to deep left-center field, then Smith followed with a base hit. Pugh advanced to third, while Smith reached second on the play.
Joyner, a junior from Mustang, Okla., went 2-for-3 with an RBI, while Pugh, a senior from Vista, Calif., was 1-for-2 with a run scored. Smith, a sophomore from Godley, Texas, added a 1-for-3 performance and scored a run.
OCU's opponent Thursday will be determined by elimination games Wednesday. The other three teams remaining in the NAIA Softball World Series will play for the right to take on the Stars then.
NAIA Softball World Series
At Clermont, Fla.
Legends Way Ballfields
All Times CDT
Friday's Results
Ottawa (Kan.) 4, Warner (Fla.) 2
Southern Oregon 4, Indiana Wesleyan 3
LSU-Alexandria 4, Davenport (Mich.) 0
Corban (Ore.) 6, Marian (Ind.) 3
Saturday's Results
Davenport 3, Indiana Wesleyan 2, Indiana Wesleyan eliminated
Warner 6, Marian 3, Marian eliminated
Columbia (Mo.) 2, Ottawa 1, 8 inn.
Oklahoma City 4, Southern Oregon 0
Monday's Results
Davenport 4, Ottawa 0, Ottawa eliminated
Southern Oregon 4, Warner 3, Warner eliminated
Oklahoma City 2, LSU-Alexandria 1
Corban 5, Columbia 0
Tuesday's Results
LSU-Alexandria 2, Davenport 0, Davenport eliminated
Columbia 5, Southern Oregon 2, Southern Oregon eliminated
Oklahoma City 2, Corban 0
Wednesday's Games
Game 16: Columbia vs. LSU-Alexandria, 3 p.m.
Game 17: Corban vs. Winner Game 16, 6 p.m.
Thursday's Games
Game 18: Oklahoma City vs. Winner Game 17, 4 p.m., championship
Game 19: If necessary, 6:30 p.m.