OKWU Sports
Nick Morris, Sports Information Director
BARTLESVILLE – In a game that seemed to be a pitcher's duel in the early stages, the two teams turned out to combine for 15 runs in the contest.
Oklahoma Wesleyan defeated Midland by a score of 10-5, with Will Price producing most of the runs for the Eagles.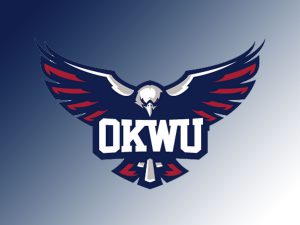 Price, a senior from Fayetteville, Ark., connected for two home runs in the game that led to four RBI's and also three runs scored. Chris Tapia went 4-for-5 from the three-hole with two runs scored and a double. Shortstop Rodolfo Oleta went 2-for-4 with two runs scored, while Alex Lugo also collected two hits in five plate appearances.
On the mound, Zach Johnson made the start for Oklahoma Wesleyan. Johnson pitched five and two-thirds innings and struck out four batters before being replaced by Landon Williams. After Williams pitched an inning and a third, Lizandro Cruz and Tyler Shumpert closed out the game in the final two innings.
With the win, the Eagles advance to the next round of the Bartlesville Bracket and will face Indiana Tech on Tuesday, May 16, at 2:30pm.