In the last few years under coach Kelsi Musick, the Southwestern women's basketball team has consistently put forth an offense that is fun to watch.
It's been up-tempo and high scoring. And with all the dribble-drive penetration and lots of ball movement, there must be quality players on the court that can execute that kind of high octane offense well.
But there also needs to be one to play the point position and get the plays in motion. For a little more than a year now, that player has been Hayden Priddy.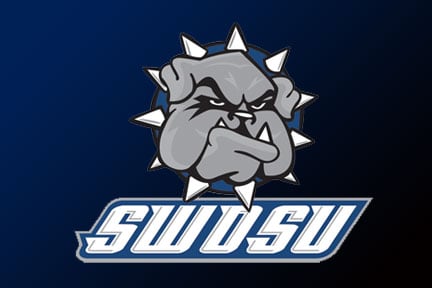 The sophomore from Piedmont High School had the role thrust upon her late in the 2015-2016 season when Jade Jones was sidelined with an injury.
But as the starting role was hers to start this year, the expectation level was higher. Even from Priddy herself.
"I definitely had to step up this year," Priddy said. "But coming into the season, I knew that Hailey (Tucker) and I were going to be the only two returners with some real minutes from the previous season. And I knew that I had to step up into my role."
And she said she is fine with the pressure attached to the position.
"I like it. I like having the pressure on me. I like having coach yell at me every day. And I think I like having the pressure on me more than I like not having the pressure on me."
For her part, Musick said she is happy with the way Priddy has stepped up.
"I think she's embraced that role of being our starting point guard and embraced it to its fullest," Musick said. "She's definitely a force to be reckoned with in our conference."
Priddy has demonstrated an ability to move the ball around to right person, averaging 4.6 assists per game, which is second in the Great American Conference. But she has also given opposing coaches something to have to contend with as she is also the second-leading scorer in the GAC, posting 15.9 points per contest.
The scoring factor wasn't necessarily a goal of hers for this year, but having to be guarded is something that is important to her.
"I just like to go out and play the game, and I knew that Hailey would have to have a lot of points," Priddy said. "But I also knew that there would have to be that other person distracting the other team from Hailey at times, and that was a goal of mine to be that other person they had to stop."
And that is a facet of Priddy's game that doesn't surprise her coach at all.
"That's what Hayden's capable of," Musick said. "She's a scoring point guard.
"She has a beautiful shot. She can hit the three, but she can also get to the rim and finish with a bump and get some and-1's and she's a great free throw shooter. So she's dynamic with the basketball.
"Not only is she dishing out assists, if they're not careful, she can score just as easily and probably better because she can pass half the time."
The scoring combination of Priddy and fellow sophomore Tucker (18.7 ppg), the only player in the GAC scoring more than Priddy, accounts for more than 34 points each night for the league's most prolific offense.
It's a good combination on and off the court.
"Not only is Hailey my teammate, she's also my roommate," Priddy said. "We have a really good relationship.
"We're more like sisters than anything. I mean, we fight and stuff, but she's my sister."
Priddy's other 'teammates' in the SWOSU FCA took to Twitter to show their appreciation.
"It made me really happy to see that," Priddy said. "The FCA leader here (Marshall Wallace) is one of my really good friends and I actually went to high school with him. To have my FCA family to be so proud of me and to have them follow me and keep up, it's really heartwarming to see that."
The Lady Dawgs are in fourth place in the GAC standings and have just about locked up a berth to the conference tournament once again. And Priddy will be at the helm as SWOSU will try to win a third tournament title in six years.
Musick said she is comfortable with her in that role as that Priddy has become more comfortable with the role as the season has moved along.
Having a great floor general at the point is good for her team. Musick said having that point guard to be a scoring threat, as Priddy has become, is an added bonus.
"She's kind of come into her own and found her own way," Musick said. "When I put anyone on my team out there, they're all capable of scoring.
"Obviously, Hailey Tucker demands a lot of presence and can score at any time from anywhere. But I think Hayden Priddy can do the same things. She's just not as tall as Hailey."
In 22 games this season, Priddy has had 18 of them in which she has scored in double figures, and topped the 20-point mark in four straight during January.
"I don't know exactly where that came from. As long as the ball's going in the hole, I can't really complain."