BETHANY – The official word came through a letter that Southern Nazarene President Loren Gresham proudly held before a crowd gathered on Thursday on campus to hear.
"It seems like a pretty small thing to show at the end of a process that now spans, I think technically, over a decade in preparation," Gresham said.  "But this is the letter that arrived July 23 from the president of the NCAA Division II Membership Committee.
"And there are quite a few facts in here, but the short version of it is that we are welcomed into active membership in NCAA Division II and we are continuing in active membership, but in a slightly different capacity in the Great American Conference."
Southern Nazarene has completed the three-year journey of transition from being an NAIA institution to an active member in the NCAA.  Gresham took the time to thank the administrative colleagues, coaches, and many more, both in attendance at the Marchant Alumni and Guest Center, and beyond for the work and sacrifice put in to get the university to this point.
"As we considered something as major as an affiliation change from what had been a very good association for this institution for 40 years, it was not something that we took lightly.  We considered all of the ramifications of what new relationships would mean.  Of our former conference, only one is currently in our new conference.  So it was an entirely, save one, new set of institutions, new personnel, new coaches, new athletic directors, new presidents.
"It was quite a shift and I can't express appreciation strongly enough to the Great American Conference for the way they have welcomed us in and have made us to feel like a member even before we were officially as of yesterday a full active member of NCAA Division II."
Audra Tope, Associate Commissioner for Compliance for the GAC, represented the conference and extended praise for the university's accomplishments.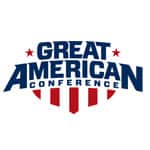 "Today is truly is a celebration of not only the acceptance into the full NCAA membership, but also celebrating the hard work of all the individuals in the athletic department and across campus that helped Southern Nazarene achieve active member status," Tope said.
The manner in which the Crimson Storm athletic department and university as a whole conducted themselves had an broad impact, according to Tope.
"I've been fortunate enough to work with Southern Nazarene and the individuals within the athletic department through this transition.  I've been very impressed with not only their efforts and dedication throughout the process, but also with the contributions that they have made within the conference infrastructure at all levels.  From the coaches to the administration and even at the presidential level, Southern Nazarene has shaped our conference during its first three years.
"So on behalf of the conference office and all of our GAC member institutions, I want to extend our gratitude for the commitment to this process and our sincere congratulations.  We look forward to watching this next chapter unfold.
SNU Athletic Director Bobby Martin also expressed his gratitude for all involved, but said he is happy to be at this point.
"It's really a deep sense of relief, to be truthful with you," Martin said.  "The process is rigorous and it is not meant to be easy. It's a transition that they take very seriously and expect the institutions to be ready once they get into active membership and they definitely make sure you are ready."
Gresham spoke of the role of athletics on a college campus and that the requirements involved in the transition were helpful for students across the university.
"So we feel like this is way more than a piece of paper talking about a membership status," Gresham said.  "It is a way to help Southern Nazarene University fulfill its academic and social and spiritual mission in a better way.
"So for all of those reasons we're very glad to be here."