From SCU Sports Info.
Matthew Stephens, Sports Information Director
BETHANY, Okla. – Southwestern Christian University topped Central Baptist (Ark.) 4-2 at Cagle Family Field Friday to win the NCCAA Central Region Tournament.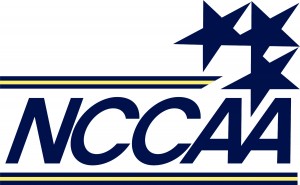 The Eagles, ranked No. 10 in NCCAA Division I men's soccer, outscored their opponents 8-2 in the tournament and earned an automatic bid to the NCCAA Division I Men's Soccer National Championship on Dec. 1-6 at Austin-Tindall Soccer Complex in Kissimmee, Fla.
SCU improved to 13-5-2 with the win.
The Eagles took a 1-0 lead in the fourth minute of the game when Jamie Campbell corralled a lose ball in the box and beat Central Baptist goalkeeper Caleb Guyton.
Adam Kay put the Eagles on top 2-0 when he got a cross from Niall Ferguson and scored in the 33rd minute.
Central Baptist's Nicolas Doyle scored on a free kick in the 34th minute to cut SCU's lead to 2-1.
SCU regained a two-goal lead in the 35th minute when Svetislav Milic got a long pass from Kay and beat the Central Baptist defense to make the score 3-1.
Campbell scored his second goal of the game when he broke past the Mustang defense and scored from the right wing to give SCU a 4-1 advantage in the 65th minute.
Joe Adkins scored for Central Baptist in the 86th minute to cut the Eagles' lead to two goals, but SCU held on for the 4-2 victory.
Goalkeeper Chris Muter played all 90 minutes in goal for the Eagles.
The Eagles earned the central region's automatic bid to the NCCAA National Championship with the win. For more information about the national tournament, click here.
NCCAA Central Region Tournament
Cagle Family Field in Bethany, Okla.
Thursday, Nov. 20
Semifinals
Southwestern Christian 4, Central Christian 0, CCC eliminated
Central Baptist 1, Colorado Christian 0, CCU eliminated
Friday, Nov. 21
Championship
Southwestern Christian 4, Central Baptist 2