OKLAHOMA CITY – The tried and true cliché "change is inevitable" certainly applies to the athletic department at Mid-America Christian University (MACU) as the 2015-16 school year quickly approaches.
"Change presents itself in many forms, which includes new opportunities. At MACU we continually encourage our students to reach beyond comfort zones and complacency. We are confident that the coaching and leadership changes made this year will continue to steer the Evangels into the NAIA powerhouse they're meant to be," said Jessica Rimmer, supervising Vice President of Athletics.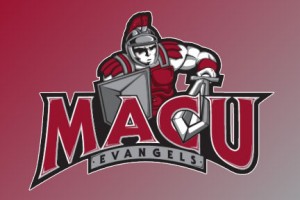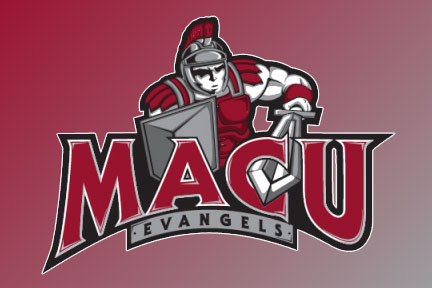 The waves of change began when Men's Basketball Head Coach Willie Holley retired after 42 years at the helm with 813 total wins which placed him second on the NAIA Winningest Coaches list. In his final season, he led the Evangels to their first ever Sooner Athletic Conference regular season championship and its initial berth to the NAIA National Championship tournament, where MACU advanced to the quarterfinal round.
With the program on an upward swing, MACU brought in Josh Gamblin to take the reins.
Coach Gamblin brings a great combination of youthful energy and impressive coaching experience. He was a graduate assistant coach for the University of Oklahoma last season after a two-year stint as assistant coach at fellow SAC school Southwestern Christian University.  He also has notable ties to the NBA, filling the role of summer basketball trainer to NBA All-Star Blake Griffin for the past three seasons. In addition, Gamblin was the video coordinator for Griffin's NBA team, the Los Angeles Clippers, for the 2011-12 season.
"I am beyond excited for the opportunity to become the next head men's basketball coach at MACU," Gamblin said. "It is an honor to follow in the footsteps of not only a great coach, but a great man in Willie Holley. To be able to use the game of basketball as a tool to lead young men to Christ is an opportunity of a lifetime."
Changes on the hardwood were not limited to men's basketball.
The women's basketball program is also headed in a new direction, but with a familiar face, with new Head Coach Seth Froese. Coach Froese has been the assistant coach for the past two seasons under former Head Coach Marcus Moeller.
The coaching duo of Moeller and Froese was a successful one, guiding the Lady Evangels to consecutive winning seasons for the first time since joining the NAIA in 2007.
"I am humbled and excited for the opportunity to serve in this new position as head coach," Froese said. "MACU is a special place and I'm eager to continue building upon the success that both Coach Moeller and Coach (Roman) Owen have set in motion. It has been a long road to this point for me as a coach and God has always been faithful. I would be remiss if I didn't say a big thank you to my family–wife and boys—who have been my support."
Meanwhile, Moeller left the bench to the administrative chair.
Former head coach to women's basketball, Moeller will now be leading the charge for the athletics department as athletic director.
On the transition to his new role as leader of the department, Moeller said, "I'm extremely honored and humbled. I'm excited to work alongside the coaches and athletic staff we have at MACU. It's a blessing to make a positive difference in the lives of others while simultaneously growing in my profession. I appreciate the administration for their trust in me."
The wave of change also found its way to the diamond.
Adrian Savedra has been given the keys to the MACU baseball program. Savedra was named head coach following a five-year stint as assistant baseball coach at nearby Southern Nazarene University in Bethany, Oklahoma. The Edmond native has also served as head coach at both Putnam City and Santa Fe South High Schools.
Savedra has also been influential in ministry by helping to develop the program "A Life Worth Following" (ALWF). The ALWF is a non-profit baseball ministry that, in addition to improving young men's baseball skills, teaches them how to be an ambassador for Christ. Through ALWF, a summer baseball team was formed and is known as the OKC Ambassadors. Savedra served as the head coach from 2008-13, and as the executive director for the past two years.
Overall, Savedra has coached and recruited 128 players. Of those, 102 played collegiate baseball with 21 at the NCAA Division I level and 5 have been drafted by Major League Baseball (MLB).
"I am excited to become the next baseball coach at Mid-America Christian University and very grateful for the opportunity to serve in this capacity," Savedra said. "The challenge of developing these ballplayers, both on and off the field, while building a program that brings pride to the university and glory to God is something that I greatly look forward to. I am deeply humbled and honored to become a member of the MACU family. I can't wait to get started!"
Finally, MACU is embarking on a journey this season by fielding a competitive cheer squad for the first time in school history. 
Not only will the cheerleaders be present cheering on MACU athletics at home events, but the squad will also compete at the NAIA Regional and National competitions.
"I am so excited that God has blessed me to be a part of the staff at MACU," Cheer Coach Savannah Owen said. "It is my goal and dream to start new traditions and develop school pride. The competitive cheerleading program is going to be a great addition in our athletic department and I look forward to working with all of our talented athletes. We have had a great turnout at our recruiting clinics and our team is looking great."