From ORU Sports Info.
Tim McCaughan, Media Relations Assistant
TULSA, Okla. – Top-seeded Oral Roberts picked a 6-5 victory over South Dakota State in the nightcap of The Summit League Baseball Championship Wednesday. The Golden Eagles scored in two innings, including a five-run fifth to advance to the winner's game against IPFW Thursday at 6 p.m.
Nick Rotola and Brent Williams carried the load for the Golden Eagles at the plate. Rotola finished the day as the only ORU player to record multiple hits after finishing 2-for-3 with a home run and a walk. Williams drove in two runners on his only base hit of the night.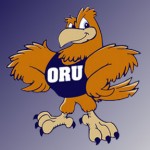 Rotola, a Wichita, Kansas native, kicked things off with a bang as he leadoff the first with a home run to left field. It was his second home run of the season.
South Dakota State bounced back in the third to take a 2-1 lead after the Jackrabbits' leadoff man Tony Kjolsing doubled to get the inning started. He later scored on another double by Jesse Munsterman to tie it.
ORU starting pitcher Bryce Howe looked to have gotten out of the inning but the Jacks' Phil Velez connected on an infield single to take their only lead of the game.
Oral Roberts got thing going at the plate in the fifth when they sent five runs to the plate to take the lead.
Nine batters saw pitches in the fifth as the Golden Eagles connected on four base hits and a walk while taking advantage of a SDSU error. Williams capped off the inning with a two-run double to left center.
The Golden Eagles would not look back as the bullpen held strong to stave off SDSU. Josh McMinn and Holden Cammack held the Jacks in check for an inning and a third apiece. Brady Womacks would close out the game for his 13th save of the season.
Howe, a sophomore, moved to 6-4 on the season after going five and a third innings. The right-hander allowed just two earned runs off eight hits while striking out five.
Notables
ORU moves to 6-1 on the season against SDSU.
It marks the seventh-straight win in the tournament for ORU.
The Golden Eagles improve to 53-2 in the Summit League Tournament.
Nick Rotola was the only ORU player to finish with multiple hits.
Bryce Howe improved to 6-4 on the season in the win.
Tony Kjosling led SDSU with a 2-for-4 night while scoring two runs.
Up Next
The Golden Eagles take on No. 3 seed IPFW Thursday at 6 p.m. at J.L. Johnson Stadium after the Mastodons defeated No. 2 seed Omaha earlier in the day. The noon contest will feature the Jackrabbits and Mavericks in an elimination game.