Oklahoma Baptist earned an automatic bid to the National Christian College Athletic Association national tournament winning four games to take the Central Region title.
The winning continues.
OBU (39-15) won two games in Pool A competition on Wednesday in Mason, Ohio, at Prasco Park.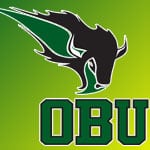 The Bison defeated Toccoa Falls College, 16-0, in seven innings in the early game and dispatched Oakland City University, 9-2, in the nightcap.
OklahomaSports.Net's D-II Player of the Year Brandon Cuddy, scored a run and had an RBI double in the nine-run sixth inning for the Bison in the win over Toccoa Falls.
Ryan Joyce went 4-for-4 with three RBI against the Screaming Eagles.
Mike Gould picked up his eighth win of the year, giving up only two hits in eight innings against Oakland City.
Dustyn Cook led the way against the Oaks, with a 3-for-4 outing and drove in a run in both the third and the fourth innings.
Top-seeded OBU will take on Hiwassee and Judson on Thursday at Legacy Field as pool play continues in the NCCAA national tournament.
Southwestern Christian also received an at-large bid to the national tournament and is the No. 3 seed.
The Eagles fell 9-7 to Warner and 5-2 to Bethesda on Wednesday and are scheduled to face Campbellsville on Thursday.