Just more than a month ago, the story broke that Southwestern Christian University was hiring Dave Bliss to fill its vacancy at the men's basketball head coaching position.
The reaction was quick and nationwide.
Then just as quickly it was gone.
This leaves Bliss to do what he needs to be doing now – recruiting. He has been charged to not only lead a team on the court, but also to bring quality players to the program to get to that court. And right now, the cupboard may not yet be bare, but there are empty spaces.
Four seniors from last year's squad who were regular starters and saw significant time on the court are gone.
Another starter, sophomore Timotis Kuckallis (7.3 ppg, 5.0 rpg) and Sooner Athletic Conference Freshman of the Year, Vladimir Nemcok, left to go with former SCU coach Quinn Wooldridge, who took the job at Oklahoma Baptist.
So there's work to be done in Bethany to replenish the roster. And recruiting is a job that is different now for Bliss than it used to be. In 2003, Bliss resigned as the head coach at Baylor, following a scandal at the university.
But the challenge recruiting might bring is something Bliss doesn't shy away from.
"I meet it head-on," Bliss said. "With my players, most of them know about my situation. And if they don't, I make them aware of it at the start. Because for the most part, I really don't think anybody else would do what I did, but they have to understand I didn't think I'd do it either.
"And I want them to guard their heart in a manner to protect everything that is important to them. Because I didn't do that for reasons that are foolish as I look back."
The situation Bliss referred to included NCAA rules violations, illegal tuition payments, and cover-ups. But Bliss said that was then and this is now and that things have changed much for him over these years.
"After the Baylor situation occurred, I think the thing that I was most disappointed in personally was the degree to which I had compromised my integrity and my character and everything and made choices that not only hurt my family, it hurt the school that I cared a great deal about. And it really disfigured the profession that I care a lot about.
"And as I thought more about it, God literally did an autopsy on me and during the period I think the thing that was most evident was very frankly, I had a bad metaphor for who God was in my life. I had been raised in a religion where the comfort level dealing with Jesus Christ wasn't there. We didn't a lot of times think of God.
"I think in my instance, I looked at my relationship with God more as a "Get-into-Heaven-free-card" than I did as a relationship that on a daily basis He actually could help me.
"I think that in the aspect of salvation, I was kind of a Christian streaker. I had the helmet of salvation on, but I hadn't surrendered anything. And so my daily walk was prone to fail at a certain time. And of course, it hurt a lot of people.
"But this is now and I'm grateful for the opportunity at Southwestern."
This opportunity is Bliss' first trek into small college coaching. He was the head coach at four NCAA Division I schools – Oklahoma, SMU, New Mexico, Baylor – and complied a 525-328 record coaching from 1975-2003. He is still the all-time winningest coach at New Mexico.
But following his change in relationship with God, the perspective of winning on the court and winning in life and their places relative to his life has changed for Bliss.
"I think, as I said, my metaphor for God was more of a situation where He was going to be important once I got to Heaven, and that I didn't really need His help because I was a pretty successful coach without Him.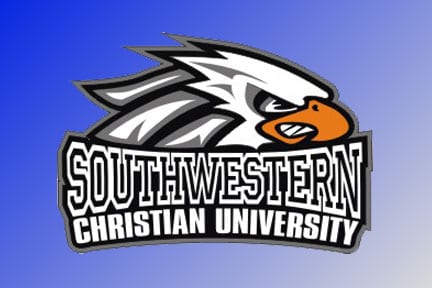 "And little did I realize that He was at the heart of all my success.
"And I really felt badly about that. So what God did immediately was to take me off the pedestal and put Jesus up there. And I think in my case, He just said to worry about the audience of One from now on – don't worry about pleasing all the fans and the boosters and everybody else. You just take care of your business and we'll get back on track."
So he is headed back to the sidelines of college basketball, albeit sidelines that many outside Oklahoma City area weren't aware of.
That appears to be alright with Bliss, who at 71, said he is continuing to learn and grow.
"One of the interesting things that I've observed is my own behavior," Bliss said. "One morning about five years ago, I just woke up and the joy that I had about talking about my new walk with Christ, was greater than the humiliation and remorse that I had for what had occurred at Baylor. And I know in large part, that's God grace working in my life."
Bliss also talked about those in his support system in place to help him continue to walk a better path. He said his wife, Claudia, whom he called a 'Boomer Sooner' and glad to be back. Bliss is also looking to bring on board Kevin Henry, a former player under Bliss and current high school coach and owner of The Hoop Station in Waco, to be his assistant.
Bliss said it was the support system that is the reason for his return. Also in that system is a friend and former colleague, now within the SCU administration, that got the ball rolling.
"I was speaking at the final four for the (National Christian College Athletic Association) and one of the coaches there was the women's coach at Southwestern. Little did he know that the men's coach was going to leave in about a week.
"But when he came back to the campus, he told one of the consultants in the athletic department, Jim Poteet, about my talk out there and about the book I have put out. And I think he got Jim thinking, because Jim and I go a long way back. Jim was the coach at Bethany Nazarene (now SNU) when I was the Sooner coach. We were friends then. And so Jim made the phone call and got me out here."
Bliss' book "Fall to Grace" was released in April. The timing coincides with his return, but that wasn't something he had planned.
"I didn't think I'd ever go into college coaching again. I never even entertained the thought. But again, as soon as you think you know what you're doing, God can step in and really help you. That's where He's got our family next."
The hiring of Dave Bliss at one of Oklahoma's smallest schools came nearly forty years to the day of his hiring at its largest. And in his time at OU, Bliss said he remembers the Sooner Athletic Conference in its infancy.
"I have seen the Sooner Athletic Conference during its early heydays, and although the teams have changed somewhat, it's still recognized as the No. 1 NAIA basketball conference in the country. That's what I try to sell.
"Our school has not had a great history of basketball, but in our new leadership with Dr. Reggies Wenyika, we've had a resurgence of excitement around the campus. And I want to be a part of that.
"So to try to take the SAC, one of the best in the country, and to promote it by having young people participate in tournaments and that sort of thing, that's the exciting thing that I await now."