The UCO Bronchos found themselves in a difficult situation against a tough Missouri Western team on Saturday.  And their coach got his opportunity to see how the 2014 edition of Central's football team would react.
The Bronchos rallied from an early two-touchdwon deficit to outscore the Griffons 26-3 through the rest of the game row 26-17 win, moving the team to 2-0 on the season.
Nick Bobeck said he was pleased with the response of his team, but couldn't have really known for sure what would happen.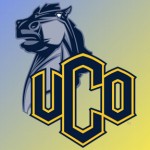 "Yeah, because we've not done it yet," Bobeck said.  "Last year, if we had gotten in a 14-point hole, I'm not so sure that we wouldn't have folded our tents.
"But we've got a bunch of kids that believe and that are extremely high character.  Guys that believe in what we're doing and that believe in themselves."
Bobeck said the Bronchos were aware of how they got into that tight spot.
"They know that the reason that we were in that hole was a lot of self-inflicted wounds – we didn't tackle very well, we weren't very clean on the offensive side of the football, we had a missed field goal, we turned the football over for the first time in this young season.
"So adversity hit.  And we didn't know exactly how they were going to respond, because we hadn't been put in that situation yet this year.
"But we had a good feeling as to how they were going to respond and that's the great thing about having character kids.  You're going to get a consistent effort form those guys.  You don't really have to question them, but you never really know until it actually happens."
The UCO defense, which held Fort Hays State to only seven points, stepped up again on Saturday, this time against MWSU, a team that had received votes in the Division II national poll.
"We've got a talented group on that side of the football.  We've got a group of defensive linemen that can really play the game.  We rotate a bunch of kids in and keep them fresh.
"That (MWSU) was a football team that the week before had a back that rushed for almost 200 yards and as a team for well over 200, and we held them to under 100.  That was something that we were very proud of."
Bobeck said a big reason the defense looked good was its execution against the Griffons' running game, holding it to just 96 yards and 3.0 yards per carry.
"We made them throw the football and do things that they didn't want to do," Bobeck said.
"I was pleased with what we did on the defensive side of the football.  They made a couple of plays in the passing game, but the majority of those plays were because we missed tackles.  We've got to be able to tackle in space and that's the game of football nowadays."
Missouri Western made a few plays, but not many.  UCO gave up only 165 yards through the air.
Junior cornerback Cody Jones had two interceptions, with both leading to points for the Bronchos.  His 42-yard pick six as time expired sealed the win for UCO.
Jones was named MIAA Defensive Player of the Week.
"We responded," Bobeck said.  "After they went up 14-0, they scored only three points the rest of the game.  Really, it wasn't that close as far as the defensive side of the ball goes."
Bobeck has been speaking of the depth of this year's team through the summer and into the preseason.  That depth is starting to show itself when the games count.
"When you're able to rotate a bunch of defensive linemen in and out, it keeps the bodies fresh, obviously, but it wears on their offensive line as well.  You start hitting the quarterback and then his drops change and maybe his eyes change.  His internal clock changes a little bit.
"They had a pretty good idea they weren't going to be able to run the ball on us very well and they had to sit back and throw it.  That internal clock becomes a big issue at that point."
UCO is back on the road this week in Kansas to face Emporia State on Saturday at 2 p.m.