The Broncho defense held Fort Hays State to just 181 yards in Thursday night season opener on the way to a 26-7 win on the road.
The win was the 600th for UCO in program history.
Central's defense actually shut out the Tiger offense as the lone touchdown came on a kickoff return in the third quarter.
Senior Matt Pruitt had an interception and led the strong defensive performance with six tackles.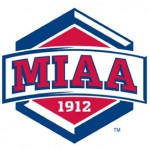 Redshirt freshman Chas Stallard emerged from the tight preseason quarterback competition to start in the opener and had a solid performance.  Stallard was 15-of-23 passing for 204 yards with one touchdown and no interceptions.
Stallard's TD pass opened the 2014 scoring with a 24-yard throw to Connor Pulley.  Pulley was one of six Broncho receivers to haul in at least two catches.
Stallard was also big in the ground game.  He picked 107 yards on 17 rushes and took in UCO's other touchdown on the night.
Sophomore Jake Gandara had 24 carries for 136 yards.
Another sophomore, Seth Hiddink, was 4-for-4 in field goal attempts – all in the second half to extend the Broncho advantage – and with the 2 PATs scored 14 points for his team.
Central hosts Missouri Western on Saturday, Sept. 13, at 6 p.m. at Wantland Stadium.