UCO Sports
Chris Brannick, Director of Sports Media Relations
EMPORIA, Kan. – The University of Central Oklahoma baseball team is headed to the NCAA Tournament's Central Regional Championship following a 14-8 win over St. Cloud State Sunday evening at Glennen Field.
The Bronchos (37-20-1) have fought off elimination in four consecutive games, and will need to beat MIAA foe Lindenwood twice to take the crown Sunday.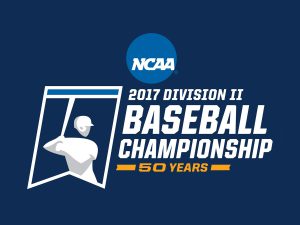 "Everybody's pitchers are pretty tired right now," UCO head coach John Martin said. "Fortunately for us, we had just enough to hold them off tonight."
UCO jumped out to a huge 6-0 lead in the bottom of the first. A three-run Trae Smith homer deep to right field scored Kyle Miskovsky and Korey Floyd. T.J. Sparr hit an RBI-double to score Dayne Sommer that made it 4-0.
Then Caleb Peters beat out an infield single and advanced to third on a throwing error by the St. Cloud State third baseman. Sparr scored on the play to make it 5-0 UCO. Justin Brown added an RBI single to make it 6-0.
Jaycee Parker got the start for UCO and got out of the top of the first unscathed. The same couldn't be said for the second.
St. Cloud State answered with three runs in the top of the second, two of them on a deep homer to left field.
Brock Stuber came on to pitch for Parker after just 1 2/3 innings. Stuber kept St. Cloud State at bay in the third before the Bronchos added a couple more runs.
In the bottom of the third, Jon Kamies drew a walk. Then, after Kamies moved up to second on a balk by the pitcher, Sparr smacked a single through the left side to score Kamies and make it 7-3. Peters then knocked a long fly ball over the left fielder's head for an RBI double to score Sparr and make it 8-3.
Stuber though, like most arms left in the tournament, grew tired in the fourth. He made it through the inning but allowed another St. Cloud State run to cut the lead to 8-4.
Neither team scored in the fifth inning and after Stuber allowed St. Cloud State a fifth run in the top of the sixth, Central Oklahoma went to reliever Gaylon Viney. SCSU scored once more in the sixth to make it a one-run game.
UCO responded though in a big way after a quiet couple of innings at the plate.
In the bottom of the sixth the Bronchos added six more runs to extend the lead to 14-7. Sommer led off with a single and Smith walked. Sommer scored when Kamies smacked a two-RBI double to left center. Smith scored when Alvarez reached on a throwing error.
With Alvarez and Kamies on the corners and Sparr at the plate, Alvarez broke for second. He would get thrown out but Kamies took off for home as the catcher threw down to second. Kamies scored to make it 11-7.
Sparr blasted a deep solo home run to left center to make it 12-7. Brown and Miskovsky also scored in the inning on singles from Floyd and Sommer to make it 14-7.
Viney gave up another run in the top of the seventh to St. Cloud State to make it 14-8.
The game finally slowed down a bit after that UCO went 1-2-3 in the bottom of the seventh, as did St. Cloud State in the top of the eighth. The Bronchos got one hit in the eighth but it was another quick inning.
Viney returned in the ninth and retired St. Cloud State in order to end the game.
All nine Bronchos that went to the plate Sunday night got a hit. Sparr led the way with three hits. The senior outfielder was just one hit shy of a cycle. He hit a double in his first at bat, a single in his second, and a home run in his third at bat.
Miskovsky, Floyd, Sommer, Kamies, and Peters each had two hits Sunday night. Smith and Sparr each had three RBIs to lead the Bronchos.
Stuber got the win on the day. He threw 3 2/3 and did allow three earned runs on seven hits, but also had two strikeouts. Viney finished with a three-inning save after striking out two himself in 3 2/3 innings pitched.
NCAA Central Regional
At Emporia, Kan.
Thursday's Games
G3: Minnesota State 4, Central Oklahoma 0
G2: Lindenwood 14, Southern Arkansas 7
G1: Emporia State 10, Arkansas-Monticello 8
Friday's Games
G4: St. Cloud State 12, Missouri Western 0
G5: Arkansas-Monticello 5, Southern Arkansas 4
G6: Central Oklahoma 5, Missouri Western 2
Saturday's Games
G7: Lindenwood 12, Emporia State 11 (13)
G8: St. Cloud State 9, Minnesota State 4
G9: Central Oklahoma 6, Emporia State 5
G10: Minnesota State 6, Arkansas-Monticello 5
Sunday's Games
G11: Lindenwood 10, St. Cloud State 8
G12: Central Oklahoma 3, Minnesota State 2
G13: Central Oklahoma 14, St. Cloud State 8
Monday's Games
G14: Lindenwood vs. Central Oklahoma, 11 a.m.
x-G15: Lindenwood vs. Central Oklahoma, 2:30 p.m.
x-if necessary; Game 15 necessary if UCO wins Game 14