UCO Sports
Mike Kirk
EDMOND – Josh Holliday and Corey Alpough combined for 24 first-half points to help foul-plagued Central Oklahoma take the lead and the Bronchos went on to topple Emporia State 62-49 Monday night at Hamilton Field House in the first round of the Mid-America Intercollegiate Athletics Association Tournament.
UCO big men Corbin Byford and Jake Hammond — who had 20 points apiece in last Saturday's overtime road win over the Hornets – scored two combined points in the first half due to foul trouble, but the Bronchos still took a 37-26 advantage into intermission behind Holliday (14 points) and Alpough (10).
Emporia rallied to within five midway through the second half before UCO spurted away and closed out its third win of the season over the Hornets.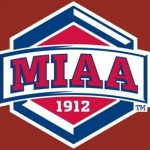 The Bronchos improved to 17-11 and moved into Thursday's quarterfinals with their fifth straight first-round tournament win.  UCO will face Central Missouri at 2:30 p.m. at Municipal Auditorium in Kansas City, Mo., with the semifinals set for Saturday and the championship game Sunday.
"That was a very good win for us," head coach Tom Hankins said.  "Anytime you can win in the post-season and advance it's a plus and I thought our guys did a good job tonight.
"Our big guys got in foul trouble in the first half and that forced us to go small.  We couldn't guard them for the first three or four minutes, but we kept the pressure on them and created some turnovers that enabled us to extend the lead."
Holliday finished with 18 points and two steals, hitting 5-of-9 field goals with a pair of 3-pointers and all six free throw attempts.  Alpough made 6-of-9 shots in a 12-point night while also blocking two shots and making two steals.
Byford ended up with 10 points and Hammond had seven after averaging 21.5 in UCO's first two games against the Hornets.  Marquis Johnson chipped in seven points and four assists, with Jordan London handing out a career-high eight assists.
The game went back-and-forth early and it was tied at 19 with 7:53 left before the Bronchos went on a 14-3 run to surge in front for good.  Johnson started that spurt with a layup, Holliday followed an ESU turnover with a 3-pointer and UCO opened up a 33-22 lead at the 2:48 mark.
It was 37-26 at the break and the Bronchos extended their cushion to 13 (48-35) on Hammond's three-point play with 11:44 left to play.  The Hornets responded with eight unanswered points to pull within 48-43 at 9:20, but then UCO's defense took over.
The Bronchos limited ESU to just six points the rest of the way, with a massive follow dunk from Hammond and three layups – two by Johnson and one by Byford — in a 51-second span highlighting a game-ending 14-6 run.
UCO held the Hornets to 34.5-percent shooting from the field and forced 23 turnovers.