UCO Sports
Chris Brannick, Director of Sports Media Relations
EMPORIA, Kan. – The University of Central Oklahoma baseball team was staring the offseason right in the face as Friday, it headed to the top of the ninth inning trailing Missouri Western by a run in the NCAA Central Regional elimination game.
But UCO wasn't willing. The Bronchos scored four runs in the top half of the final inning to prolong their season for at least one more day and beat Missouri Western 5-2.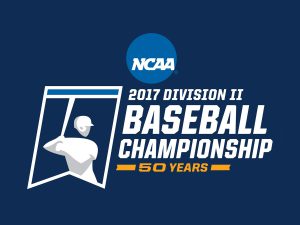 UCO will play the loser of Emporia State and Lindenwood, who played late Friday.
"This is how these guys have been playing for the past month," UCO head coach John Martin said. "We needed to win our last six games of the season just to get into the conference tournament. Then we went on a wild run to get here. These kids just won't quit."
Korey Floyd led off the bottom of the ninth with a slow dribbler to the second baseman, who threw the ball into the UCO dugout. Floyd advanced to second on the play. Brenton Washausen pinch-ran for Floyd, and Chris Lobato pinch-hit for Trae Smith.
Lobato, on a 2-2 pitch, bunted foul for the first out of the inning.
Dayne Sommer then hit a sharp ground ball to the shortstop, who threw him out at first. But Washausen did move to third.
Jon Kamies came up to the plate with two outs and a runner on third. He walked in a five-pitch at bat.
Anthony Alvarez was next. On the first pitch, a strike, Kamies stole second. After watching a ball through, the third pitch came in high and inside and hit Alvarez to load the bases with two outs in the top of the ninth.
Kyle Miskovsky then got his turn. On an 0-1 pitch, Miskovsky slapped a two-RBI single through the right side scoring Washausen and Kamies and giving the Bronchos a 3-2 lead.
T.J. Sparr followed with an RBI single to score Alvarez and make it 4-2. Justin Brown knocked another RBI single scoring Miskovsky to make it 5-2.
Miskovsky, who was 3-for-4 with two runs scored and two RBIs, led off the top of third with a single and advanced to second on an error by the right fielder. Caleb Peters followed with an attempt at a sacrifice bunt, but the Missouri Western first baseman tried to let the ball roll with hopes it'd go foul. It didn't. Peters was safe with a bunt single and Miskovsky stood on third.
After Brown grounded out to the pitcher, Jake Dyer then hit a ground ball to the second baseman and was out for out number two in the inning, but Miskovsky scored on the play and Central had a 1-0 lead.
Missouri Western answered with a run in the bottom half of the inning to tie it 1-1. Alex Huering led off with a single, and was moved up to second on a sac-bunt. He scored on a Nick Gawley two-out single.
Missouri Western took the lead in the bottom of the sixth on a sacrifice fly from Andrew Curry.
Cameron finished after 7 1/3 innings pitched, had a solid outing with five strikeouts and just one earned run. He allowed two runs on hits and walked just one. Cameron would have got the win if the Broncho bats could've got going a little earlier. Instead, Russ gets his sixth win of the season. Russ is now 6-1 after striking out three in 1 2/3 innings.
NCAA Central Regional
At Emporia, Kan.
Thursday's Games
G3: Minnesota State 4, Central Oklahoma 0
G2: Lindenwood 14, Southern Arkansas 7
G1: Emporia State 10, Arkansas-Monticello 8
Friday's Games
G4: St. Cloud State 12, Missouri Western 0
G5: Arkansas-Monticello 5, Southern Arkansas 4
G6: Central Oklahoma 5, Missouri Western 2
Saturday's Games
G7: Emporia State vs. Lindenwood, 10 a.m.
G8: Minnesota State vs. St. Cloud State, 1:15 p.m.
G9: Central Oklahoma vs. Loser G7, 4:30 p.m.
G10: Arkansas-Monticello vs. Loser G8, 7:45 p.m.
Sunday's Games
G11: Winner G7 vs. Winner G8, 10 a.m.
G12: Winner G9 vs. Winner 10, 1:15 p.m.
G13: Winner 12 vs. Loser 11, 4:45 p.m.
Monday's Games
G14: Winner G11 vs. Winner G13, noon
x-G15: Winner G14 vs. Loser G14, 3:30 p.m.
x-if necessary; Game 15 necessary if loser of game 14 has one loss