St. Gregory's head coach Bryan Seaman's stated goal at the beginning of the Cavalier's inaugural season was to make the playoffs. Some might have looked at the roster, thin and full of freshman, and figured that Seaman and his team were in for a rude awakening.
However, the Cavs have won the games that mattered and have booked their trip to Lone Star Alliance (LSA) playoffs in the program's first season and are looking to make the Men's Collegiate Lacrosse Association (MCLA) National Tournament.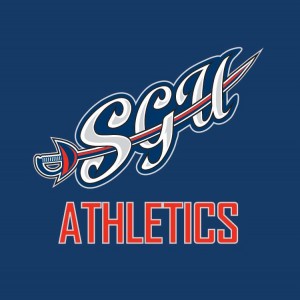 A rough start to the season saw SGU fall 22-2 at home to a strong University of Oklahoma team that currently sits atop the LSA Division I North with a 10-2 record. The team followed that up with a 9-5 loss to LSA Division II North opponent Oklahoma State in Stillwater. While most teams might have folded in on themselves after such a disastrous start to the season, the Cavaliers used it as a learning experience and came back to earn the program's first victory, a day after the OSU loss, against Abilene Christian 14-3.
"We knew we had some tough opponents stacked up against us to begin the year, especially OU," said Seaman. "We kept our heads high and we knew that Abilene Christian was a game that we should win. The team went out there and put a good performance in.
"The loss to Oklahoma State put the fuel in the fire to help us win the next game and it says a lot about the drive our guys have to go on after a 0-2 start."
Since the win against ACU, the Cavaliers have gone 3-3, but their three wins were all against LSA Division II North opponents. SGU is now 4-1 in the LSA North, dispatching their opponents by an average score of 11.0-4.6. St. Gregory's will look to continue that form as they face a final conference opponent in the University of Texas at Dallas on April 12 with a chance to secure the hosting rights to an LSA quarterfinal.
"The chance to host a quarterfinal is huge," explained Seaman. "It's tied into lacrosse in Oklahoma in general. It's another opportunity for people on campus to come out and see our team play in a big game right away."
"We're definitely surprising some people around here, but they aren't the ones wearing jerseys. The guys on the team believe in what we're doing and where we're at right now was never the endgame. This is on par with what was expected."
Pivotal to SGU's success has been freshman captain James Smith of Edmond. The attack has led the team offensively, recording seven straight hat tricks and averaging 4.7 points per game. His 35 goals this season are the second-most in LSA D2, and he has the third-most points in the league with 42 (35 goals, 7 assists).
Smith explained why he believes he's experienced success in his first season playing collegiately.
"I'm just putting in the work day in and day out. I'll work with the other guys after practice and weights and I think it helped everyone get better. I want to go 110 percent on every drill."
And yet the game is not usually won on the scoreboard, but on the ground in loose ball situations. Ground balls are a key to not only possession, but can be an indicator of team unity. Most ground ball situations require not only a player to come out of the scrap with the ball, but that a teammate sacrifice his own glory for the good of the team by boxing out his opponent and giving his teammate an open attempt at the scoop.
In that regard, St. Gregory's has been one of the best ground ball teams in MCLA DII. Smith again leads the team and is fifth nationally in the category with 61 to his credit and averages 6.8 per game. Not far behind him is Richard Fromdahl, who is also in the top 10, with 56 ground balls won. Coach Seaman explained the team's philosophy towards loose ball situations.
"We get real excited to push the transition and ground balls are a major way that we are able to do that. We do really well at the fast break. It's been a focus for us since this fall and it's all tied into our conditioning.
"With only 11 guys, we tend to be in better shape than the other teams we're facing. These guys are getting pretty strong and tough, and aren't afraid to take a hit."
It's clear that the Cavaliers will have plenty to say once the postseason hits in late April. Nothing short of a championship is the goal for this young SGU team. A team that was picked to finish seventh in the 15-team league has exceeded expectations so far. The only question remaining to be answered is just how far they'll go once it counts.
"The whole playoff vibe is something I've been through in high school," said Smith. "Some of these guys are brand new, first year guys, and I think I can motivate them through the playoffs and in to nationals."
"We have a lot of talented guys, but we also have a lot of guys that have the mentality that they want to be successful and they don't want to wait for it," said Seaman. "We don't want to see our season end in Oklahoma; we want to get to California for nationals. Anything short of California is probably short of where we want to be."