UCO Sports
Mike Kirk
EDMOND – Jayden Chestnut had flirted with a no-hitter several times this season before Saturday, but the Central Oklahoma pitching ace took it a step further against Central Missouri.
Chestnut — who has thrown four one-hitters this season — was literally untouchable, tossing a six-inning perfect game as the Bronchos rolled 8-0 in the first game of a doubleheader.  UCO completed the sweep with a 10-4 win in the nightcap behind a 13-hit attack.
"Jayden has been getting better every week and it was unbelievable how well she threw today," head coach Cody White said.  "It was as stress-free a perfect game as can be, she was that dominant.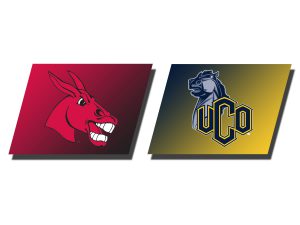 "I was proud of the way we put that behind us and focused on the second game to get the sweep.  Central Missouri is a dangerous team and it was good to get two much-needed conference wins."
The Bronchos improved to 32-8 on the season and took over the Mid-America Intercollegiate Athletics Association lead at 12-4.  UCO has won 11 of its last 12 games.
Chestnut needed just 59 pitches to complete her masterpiece, throwing 49 strikes and only going to two balls on one UCM batter.  She struck out eight in throwing the first perfect game by a UCO pitcher since Kalynn Schrock in 2014 and the Jennies didn't come close to a hit or reaching base via a walk or fielding miscue.
It was the third straight gem for Chestnut, who allowed just two hits and five walks while striking out 20 in three complete-game shutouts this week.  The sophomore right-hander has thrown 23 consecutive shutout innings and is now 13-3 for the year.
UCO had eight runs on 10 hits to back Chestnut, with Tori Collet and Morgan Heard collecting two hits apiece.
The Bronchos broke an early scoreless deadlock in the third when Heard led off with an infield single, JoBi Heath reached on a one-out walk and Collet smacked a moon ball off the scoreboard in left-center field.  It was the ninth home run of the season for Collet and the first in five games for UCO.
Heard followed Lexi Watson's lead-off double in the fourth with one of her own and later scored on an error to push the lead to 5-0, with Ashleigh Tramel's two-run double to left field in the fifth making it 7-0.
The Bronchos ended the game on the eight-run rule in the sixth.  Abrams started the inning with a bunt single, went to second on Heath's single to left field and scored on Brooke Zukerman's line drive to left field.
The Jennies jumped on top 1-0 in the top of the first in the second game, but UCO answered right back with four runs in its first at bat.  Tramel and Carli Jones had RBI singles and the Bronchos also scored on an error and wild pitch to move ahead 4-1.
Watson had a run-scoring single in the third and Collet a sacrifice fly in the fourth to keep UCO in front 6-4 before the Bronchos broke the game open in the fifth.
Heard had the big hit in that frame with a two-run double off the top of the fence in center field, while Collet had another sacrifice fly and Watson scored on a wild pitch after reaching base earlier on a fielder's choice.
Abrams went 3-for-4 to lead UCO's 13-hit attack.  Heard, Collet and Mo Selman added two hits each.
Jessi Walker started and pitched the first two innings before giving way to Peyton Walker, who went the final five innings to earn the win.  Walker allowed three hits and three runs in improving to 16-4.
The Bronchos are back in action quickly, going to Nebraska-Kearney Monday and Fort Hays State Tuesday for back-to-back league doubleheaders in make-up games postponed last month by weather.