By John Haile
BETHANY – The Bison of Oklahoma Centennial may have been wearing the white home jerseys, but the environment was more like a Lincoln Christian home game and the Bulldogs played just as well. The Bison were able to fight off runs, great play, and a hostile crowd winning a 74-63 game against the Lincoln Christian Bulldogs Thursday afternoon inside the inside the Sawyer Center.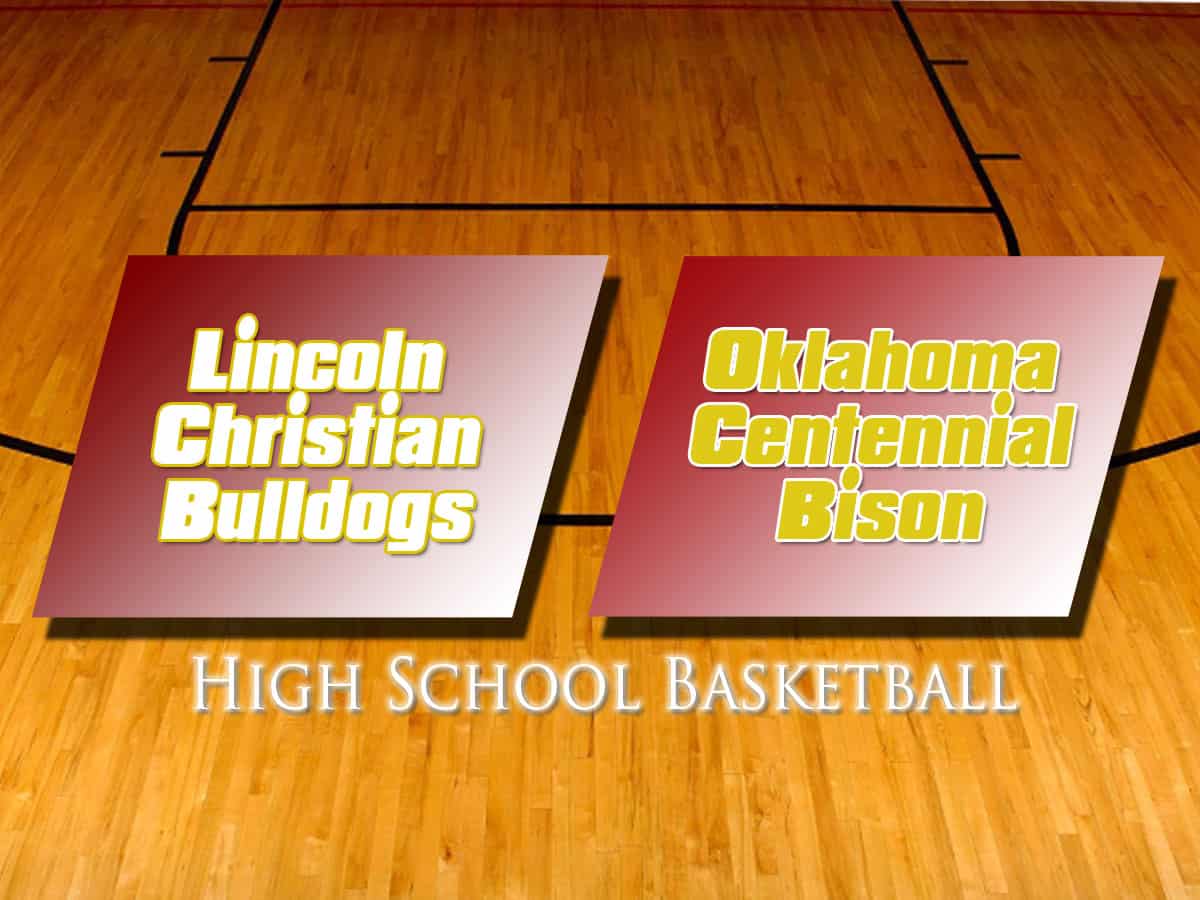 The Bison will advance to the 3A Boys Semifinals.
Centennial was led by Floyd Marshall, who led all scorers with 22 points. Marshall was followed by Quinton Johnson, who contributed 17 points to the Bison. Marcus Alexander and Devion Lacour also scored in the double digits with 13 and 11 points, respectively.
Lucas Brueggemann and Reagan Streck led the Bulldogs with 15 points each. They were followed by Kaleb Stokes who put up 13 points.
The Lincoln Christian Bulldogs came into the game against the top-ranked Bison with a chip on their shoulder. The Bulldogs shot well from downtown and led by two after the first period. They continued that streak into the second as LCS went into the locker room with a 40-29 lead.
The second half was controlled for the most part by the Bisons. Marshall exploded in the third quarter, scoring eight of his 22 points on second chance opportunities. The Bison defense also had its way in the third quarter. The Bison outscored the Bulldogs 22-3 in the third quarter.
Lincoln Christian did not go out quietly, however. The Bulldogs answered the Bison with a 9-0 run of their own to cut the lead to two. They never got that close again as Oklahoma Centennial was able to break the press and hit costly free throws.
Lincoln Christian finishes their season ranked No. 11 and with a 22-5 record. The No. 1 Bisons will move on the 3A State Semifinals to face the Douglass Trojans on Friday night at 8 p.m. in the Sawyer Center.
| | | | | |
| --- | --- | --- | --- | --- |
|   | 1st | 2nd | 3rd | 4th |
| OCS | 17 | 12 | 22 | 23 |
| LCS | 19 | 21 | 3 | 20 |
Oklahoma Centennial: Floyd Marshall 22, Quinton Johnson 17, Marcus Alexander 13, Devion Lacour 11, Derrick Coleman 8, Matthew Mantle 3.
Lincoln Christian: Lucas Brueggeman 15, Reagan Streck 15, Kaleb Stokes 13, Landon Brown 10, Grant Wynn 9, Reed Martin 1.