While most wrestlers have finished their seasons, several are still laid out on the mats in the humid wrestling room inside Edmond Santa Fe High School. For two of these wrestlers, the biggest tournament of their high school careers looms large this weekend – the 94th Annual OSSAA State Wrestling Tournament.
Santa Fe has never been the wrestling powerhouse that cross-town rival Edmond North has been. This year though, Santa Fe looks like it could very well have a champion in its own right as junior Shamar Young and freshman Noah Hooks look to take the titles in the 138 and 182 pound weight classes respectively. For both wrestlers, it will be their first time at the Oklahoma State Fairgrounds to take part in the state tournament.
"It feels awesome, I'm blessed," said Hooks about qualifying for the state tournament. "Coming in from junior high has been a big change, the intensity's been about 10 times higher. "
The last two years have been disappointing for the Wolves on the mat. Over the last two seasons, Santa Fe has earned only one point at the state tournament. That point came courtesy of John Wynn, who defeated Que Overton of Jenks in the 285 pound division in the consolation bracket. Young and Hooks look to break that trend this year and have been meticulously working throughout the season to reach their goals.
"We've worked hard to get in shape, we want to go all six minutes," said Santa Fe head coach Tim Draper about the preparation the two wrestlers have put in. "It's a daily process of working on technique and getting in better shape."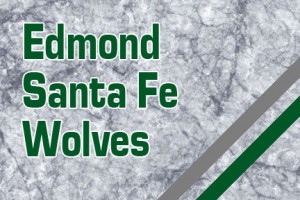 It's been a breakout year for Young. The junior picked up the sport in his freshman year only three short years ago. However, this year he's put in the extra work and effort needed to post a 27-12 record, hanging tough with some of the best in the state.
"It feels great, gaining the knowledge from Coach Draper and Coach Hunter [Muskrat] and putting it all together," Young said about his strong year. "When I first started out I wasn't that good, but I feel like I'm getting there. I've had a higher intensity level throughout my practices, working through my moves and making sure I got them right. I just keep studying the plays and moves."
Young comes into the tournament ranked No. 8 in the state in a crowded 138 pound weight class. In his first match, Young will take to the mat against Davion Jeffries, the No. 2 ranked wrestler in the class. However, none of the top four finishers from last year's state tournament return for this year's main event.
"It sounds like a challenge, but I've been putting in work," a confident Young explained about facing Jeffries. "I've been working on breaking my guys and I think I've got a chance to beat him and keep on going up in the ranks."
Also qualifying out of Santa Fe is Hooks. The freshman standout transferred from Deer Creek at the start of the year, and has helped anchor the Wolves in a tough weight class. Moving up from the junior high ranks, Hooks has amassed a record of 21-5 in his first year on the high school circuit.
As a result of his strong first year, Hooks enters the state tournament as the No. 2-ranked wrestler in the 182 pound division. For his first match, he will face No. 5-ranked Skyler Haynes out of Broken Arrow.
"I've got to be careful, Skyler is a tough kid," said Hooks about his first round match. "He's got a lot of talent and he's strong. If I play my cards right, stay strong and wrestle smart, I can advance."
However, the main target for Hooks will be to claim a first individual state title. The last several years, the weight class has been dominated by Joel Dixon, one of the three Dixon brothers who have carried the standard for the western side of the state for the four years prior. Dixon will not be there to defend his title for a third time after graduating last year, he now wrestles for Oklahoma.
"I've been putting in a lot of work, and I think I could win it this year, without a doubt," asserted Hooks. "I'm one of the top-ranked kids in the state and I could be one of the top kids in the nation if I put in the work."
Standing in his way is top-ranked Jordan Deringer, a senior from Stillwater who boats a 43-1 record coming into the state tournament. During the regional tournament, Deringer pinned Hooks in 1:06. To set up the rematch, Hooks will have to win two matches. However, Hooks believes he knows what he'll need to do should the rematch be in the cards.
"I've just got to keep my head up," explained Hooks about a potential rematch in the state final. "Deringer got me when I had my head down. I feel like I can really compete against him, especially in the first period in neutral. I can beat him if I get a rematch."
If all goes well for Young and Hooks, they will be the first state champions in program history. Though they both have to battle through a gauntlet to reach the top of the podium, both wrestlers look forward to fighting through the competition and earning that first place medal.
"It would be an honor just to get there," said Young about the prospect of becoming a state champion. "Being a state placer means you're No. 1."
"It'd be cool to be the first state champion at Santa Fe," added Hooks. "I feel like a lot of people would look up to me because I'd be the first one."