From SCU Sports Info.
Matthew Stephens, Sports Information Director
WINONA LAKE, Ind. – Southwestern Christian University fell 75-68 to top-seeded Emmanuel (Ga.) in the NCCAA Division I Men's Basketball Championship title game Saturday at Manahan Orthopedic Capital Center.
The second-seeded Eagles overcame a 13-point, first-half deficit and took the lead with 16:39 remaining in the game, but the Lions were able to hold off SCU for the win.
Marvin White paced the Eagles with a game-high 29 points, four rebounds, three assists and two steals. The junior guard made four 3-pointers on the afternoon.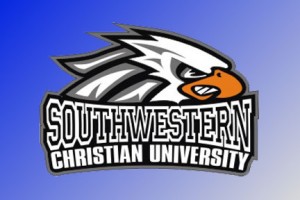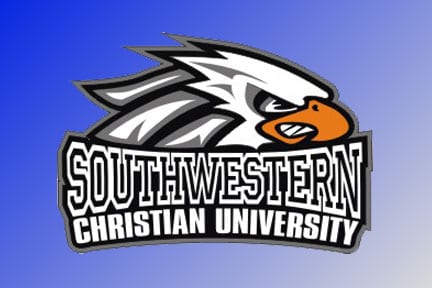 Gabi Laurent and Mikel Parish each added 12 points. Laurent, a senior forward, grabbed five rebounds and tallied two steals. Parish, a sophomore guard, finished with eight assists, four rebounds and three steals.
James Still notched seven points and eight rebounds and Shawn Scott chipped in with six points and eight boards.
Still and White were named to the all-tournament team.
After falling behind by 13 points late in the first half, the Eagles got buckets from Kris Brown and Parish to cut the deficit to 39-29 at the half.
SCU opened the second half on an 11-0 run and took a 40-39 lead with 16:39 to go. Parish fueled the run with four points and White buried a 3-pointer to give SCU its first lead since early in the first half.
Emmanuel responded and twice built its lead back to double digits.
White converted a pair of free throw opportunities and cut the Lions' lead to 67-65 with 1:20 to go.
From that point, Emmanuel went 6-for-6 from the free throw line and punctuated its victory with a fastbreak bucket by Kendrick Colvin after a steal by Austin Greene.
SCU ended its first season under head coach Dave Bliss at 19-15 overall. After losing seven of its first nine games, the Eagles stormed out of the winter break and finished the second half of the season with a 17-8 record.
SCU enjoyed its best season since joining the NAIA in 2010.