From SCU Sports Info.
Matthew Stephens, Sports Information Director
SHAWNEE — Southwestern Christian University topped Ecclesia (Ark.) 11-4 in extra innings Tuesday in the NCCAA Central Region Tournament at Bison Field at Ford Park.
Second-seeded SCU (42-12) struck for seven runs in the top of the 11th inning and muscled past the seventh-seeded Royals. The Eagles outhit Ecclesia 17-4 on the day.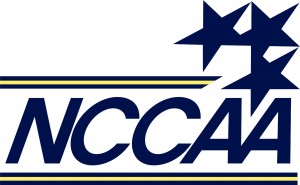 The win set up a matchup between the Eagles and third-seeded Oklahoma Wesleyan at 3:30 p.m. Wednesday.
Justin Braziel led off with a single and later scored on a base hit from Haskell Browning to put the Eagles in front 1-0 in the top of the first.
Ecclesia scored a pair of of runs in the bottom of the fifth to take a 2-1 lead.
Chase Schlebach scored on a wild pitch in the top of the sixth to tie the score at 2-2. J.J. Whitney capped the inning with a two-RBI single to give SCU the lead.
The Royals pushed two more runs across in the bottom of the sixth to knot the game at 4-4.
After four scoreless innings, the Eagles exploded for seven runs in the top of the 11th. RBI doubles from Braziel and Michale Lowe put SCU in front 6-4. 
After a pitching change, Corey Cupp singled to right and plated a pair of runs. Browning swiped home plate on a double steal to extend the Eagles' lead to 9-4.
A sacrifice fly from Whitney and an RBI single from Zach Graham capped the inning.
Dalton Judkins struck out four in four scoreless innings of relief and picked up the win. Jason Braziel go the start and struck out four in five innings of work.