As OklahomaSports.Net begins a series of features about the Fellowship of Christian Athletes in Oklahoma, we wanted to look at what it is all about. There seemed to be no better place to start than with someone who lives the FCA lifestyle every day.
Drew Beard is a former quarterback at Rush Springs High School and Southeastern Oklahoma State University. He is now serving as a South Central Oklahoma Area representative for FCA. OSN had a chance to visit with him.
OSN – Drew, what is FCA all about?
DB – The FCA vision is to see the world impacted for Jesus Christ through the influence of coaches and athletes. Everything we do should be filtered through that vision with the mission of presented the gospel to coaches, athletes and all that they influence, challenging them to receive Jesus Christ as their Savior and Lord. And to serve them in their relationships on their teams, in their locker rooms, on the field and off the field, as well as in their local churches. So we're just trying to bridge that gap of relationship with Christ and get them into the churches. But more importantly, it's to let them know who Jesus is and to do that through the FCA vision and through coaches and athletes and the influence they possess.
OSN – Do you have to be an athlete to attend?
DB – You do not have to be an athlete. In fact, with the mission of 'all whom they influence', we realize that whether you play sports or not, you're getting touched by it in some way, form or fashion. Whether it's the shoes that you wear, the clothes you wear – whatever it may be, these athletes are humans just like we all are, they're just on a pedestal. So we do minister to people in the community, as well as students that are influenced by sports or their peers in their classrooms, locker rooms or hallways.
OSN – What does a meeting look like?
DB – The history of FCA over 60 years has developed and changed a lot. But the traditional meeting is what we call an FCA Huddle, which happens either before school, during lunchtime, or after school. Basically, non-instructional time is when these huddle meetings take place.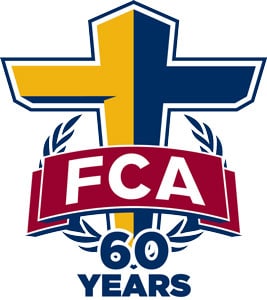 And sometimes, we're allowed to come into the locker rooms during the school hours, just like a teacher would invite a guest speaker. And we're able to come in and encourage and teach and lead through things like integrity, serving, teamwork and excellence, which are actually the four core values of FCA. So you have team huddles, classroom huddles or school huddles, and coaches huddles that happen before school or after school or even during school.
We've developed even now the opportunity to go into the community. There are a lot of kids who are playing youth sports. Maybe there is a dad who is looking to coach his son's team and is looking to implement Christ into his team's strategy and so we have reached them and are trying to grow in that ministry as well.
OSN – Is this just for high school students?
DB – We start in the middle school mainly and then go into the high school and the collegiate ranks. And in some cases, even the professional ranks.
OSN – So if you wanted to invite someone to come to FCA, how would you do it?
DB – You know, I would probably just encourage them. The history of it is: Food, Fun and Fellowship. And those three will usually catch some. I've laughed a lot of times because there are staff people all over the nation who will say that, 'I went to an FCA meeting because there were girls there,' or 'I went to FCA because there were boys there.'
But you know, it's really all about a relationship to communicate clearly with kids and to meet them where they are. We very rarely ever say, 'Hey come to the FCA Building for a huddle meeting.' We go to where they are. And just being in their environment alone they see that a lot of their friends and peers are going and they want to go. We just kind of let that consistency of the meeting and the time and place and the consistency and the influence of the coach get the kids there.
And we know that we're not going to get them all, but the ones that want to be there are the ones that we will go to battle with every day.
Follow Drew Beard on Twitter:@DrewBeard10 Follow Oklahoma FCA: @OK_fca