Different games with different reasons to keep up with what's going on.
Here are five games to follow on Saturday.
• St. Gregory's (11-8, 7-4) at Mid-America Christian (15-8, 8-3), 3 p.m. – men
⋅⋅ OSN Game of the Day ⋅⋅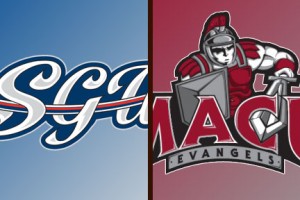 The Evangels are up to No. 14 in the latest NAIA poll, their highest ranking ever, but have lost two straight after winning six in a row. The roller coaster ride continues for the Cavs, but they did beat No. 20 Oklahoma Baptist on Thursday night. Both teams have a solid cast of characters, and Marty Wilkerson vs. Semar Farris has to be one of the best headlines in the country. A win by SGU, who won the first matchup, 79-75, would put the Cavs in a tie with MACU for first place in the Sooner Athletic Conference. Either of both could make a good run in the postseason, but this game could be a big factor in getting into the NAIA tournament.
• Southwestern Christian (5-14, 1-10) at Oklahoma City (11-6, 7-4), 3 p.m. – men
The OCU men lost the first four SAC games of the new year, but have quietly put together a five-game winning streak.  It got a little louder when the Stars beat league-leading MACU, 72-67, on Thursday. The Eagles are headed the other direction, having lost six straight, but their last win – and only SAC win – was a 79-78 defeat of OCU on Jan. 15 in Bethany. A win by the Stars, with a MACU loss, would put them at the top of the SAC in a logjam.
• Pittsburg State (20-3, 10-2) at Central (13-8, 6-6), 1:30 p.m. – women
The Bronchos stopped a five-game slide with a 62-47 win over the rival RiverHawks. But the winning needs to continue today as they try to climb back into the top four in the MIAA. UCO is tied for fifth in the league and a win today won't get it back up there yet, but will make up ground. Only one Central player (Kylie Mayes, 10.8 ppg) in is the top 30 in the conference in scoring. With that balanced attack, the Bronchos are going to need to put points on the board against a stingy PSU defense that is giving up only 57 points each night.
• Arkansas-Monticello (11-8, 9-5) at East Central (13-6, 9-4), 1 p.m. – women
A win today puts one of these teams into double-digits in the GAC win column. Taylor Fischer, Erin Walling and Dilan Webster accounted for 60 points in the 84-80 win over Henderson State on Thursday. It was the third win in four games for the Tigers. But the Cotton Blossoms are surging right now, too, and come into the game on a three-game winning streak and having won six of the last seven. East Central's schedule gets even tougher as the season winds down, so a win today is important.
• Oklahoma Christian (3-16, 1-12) at Oklahoma Panhandle (3-18, 1-12), 3 p.m., men
The Eagles have lost seven straight. The Aggies have lost nine straight. In fact, the last OPSU win was an overtime victory over OC in Edmond, 74-72, and unfortunately for Aggies coach Jerry Olson he didn't even get to see it – he was out with the flu that night. So with a win, one of these teams will have a little to work with going into the season's final games. Oklahoma Christian is not yet eligible for the postseason (in NCAA transition), and neither team would make the Heartland postseason field this year, but this game is big for both.
And Happy Birthday today to Matthew, the guy who keeps OSN online!