SWOSU Athletics
Doug Self, Sports Information Director
COLUMBUS, Ohio – For the first time as an NCAA Division II institution, SWOSU Women's Basketball will play for a National Championship after outscoring No. 14/18 Indiana (Pa.) 21-8 in the fourth quarter to finish off a 66-57 national semifinal victory on Wednesday evening at Alumni Hall.
With the win, SWOSU improves to 35-1, setting a new single-season record for victories while earning a spot in Friday night's NCAA Division II National Championship game, which will be played at 6 pm (CST) in Columbus. The Lady Bulldogs will face No. 5-seed Lubbock Christian, who knocked off undefeated top-seed Drury 69-60 in the second semifinal on Wednesday evening.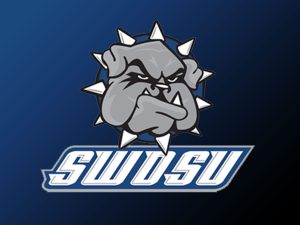 SWOSU was 4-for-4 from beyond the arc in the first quarter, building a lead of six, 20-14, at the end of the quarter and extending to seven with less than two minutes to play in the half before IUP connected on two straight three-pointers to make it a 33-32 lead for the Lady Bulldogs at the break.
Much as she did in the quarterfinals against Saint Anselm, Bethany Franks got going offensively in the third quarter, helping SWOSU push the lead back out to five, 37-32, before IUP answered with five straight points and they tied the game three times before taking their first lead of the game at 44-41 on a three-pointer with 3:38 to play. SWOSU would regain the lead on basket by Tyra Aska with 2:39 to play in the third, but IUP again closed the quarter strong with five straight to lead 49-45 at the end of three.
The Lady Bulldogs offense was stale early in the fourth as the Crimson Hawks built their largest lead of 51-45 just seconds into the quarter. SWOSU's All-American duo of Hailey Tucker and Hayden Priddy led the way as the Lady Dawgs went on a 13-2 run over the six minutes, highlighted by back-to-back triples from Priddy, who had her minutes limited due to foul trouble in the third quarter.
While her two three-pointers regained the lead for SWOSU, the next possession ended with an assist to Franks for a lay-in that put the Lady Dawgs up 55-53 for a lead they would not relinquish. IUP cut it back to three with just under three minutes to play, which was when Taber Beer stepped up with her biggest shot of the weekend, a wing three-pointer with 2:08 to play that put SWOSU back up by two possessions. Tucker got a steal on IUP's next possession and kicked it up to Aska, who was fouled hard and had to come out of the game, which put Alexa Harvey at the line, where she calmly hit a pair of free throws to make it 63-55 with 1:46 to play and allowed SWOSU to put the game away at the free throw line.
SWOSU was held to 36.1% (22-of-61) shooting from the field, but they needed all nine of their three-point makes in the game, with seven different players knocking down a three in the game. For the second straight game, it was Bethany Franks leading the charge for the Lady Bulldogs with a double-double of 14 points and 12 rebounds. Hayden Priddy scored six of her 13 points in the fourth quarter while Hailey Tucker battled an off-shooting night for 11 points to go along with seven rebounds, six assists and two steals.
The Lady Bulldogs balanced attack saw all eight players who entered the game score at least five points as Taylor Hedrick and Tyra Aska had five apiece while Taber Beer, Alexa Harvey and Maddie Sperle combined for 18 points off the bench. Harvey knocked down two field goals in the first half while SWOSU battled foul trouble before coming in to hit a pair of free throws in the closing minutes.
A season that has been highlighted by the Lady Bulldogs breaking records and making history will conclude on Friday night as SWOSU plays for their first-ever NCAA Division II National Championship. The program has a rich history of National Championships at the NAIA level, going 5-1 in Championship game appearances with titles claimed in 1982, 1983, 1985, 1987 and 1990.
SWOSU will be playing Lubbock Christian for the second time this season after defeating the Lady Chaps 77-75 in dramatic fashion at the Pioneer Cellular Event Center back on December 3rd. The two teams have played three straight seasons during the regular season, with the home team winning all three meetings to even the all-time at 3-3.
Tipoff of the NCAA Division II Women's Basketball National Championship game is set for 6 pm (CST) on Friday evening in Columbus, with the game again being televised nationally on CBS Sports Network.