If the ORU Golden Eagles are going to make a return trip to the NCAA Tournament in 2014, they will be getting there through the efforts of a group that won't really resemble the 2012-2013 squad.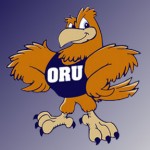 The latest departure from Oral Roberts is Taylor Cooper.  Cooper, a 2012 Shawnee High School graduate, played only one season with the Golden Eagles, in which she started all 31 games.
According to the Tulsa World, Cooper requested a release from the program on April 11, but was denied.
ORU released a statement Friday afternoon that Cooper would, in fact, be departing the women's basketball team.
"We appreciate Taylor's time here and her contributions to our program, and we wish her the best of luck," ORU head coach Misti Cussen said.
Cooper was third on the team in scoring (10.4 ppg) and second in rebounding (5.3 rpg).
But Cooper is not the only player to look for a new court on which to play.
Elisabeth Daniels is leaving the program after her sophomore season.
Daniels saw limited action in her second season at ORU.  She played in 12 games in 2012-2013, after seeing time in 20 during her freshman year.
Daniels was hampered by injury during her final two seasons in high school.
Oklahoma Baptist University's sports information department reported on Apr. 12 that Daniels would be transferring to Shawnee to play with the Bison.
Emma Gade, from Stillwater High School, is also heading out.  Oklahoma Christian sports information posted on Apr. 30 that Gade is departing following her redshirt freshman season and is headed for Edmond.  Gade played in 11 games in 2012-2013.
And, of course, there is loss of the seniors, leaving the school due to graduation.  Kevi Luper, Jaci Bigham and Savanna Buck closed out stellar careers for the gold and blue in 2013.
Fans of the Golden Eagles will likely see much more from the lone remaining starter from last year's team.  Sarah Shelton will be a senior in the fall and ready for her second season under Coach Cussin.  Shelton transferred from SMU in 2011.
Another transfer that should see much court time is Jenni Bryan.  The guard from Coweta transferred from Oklahoma State following her sophomore season and sat out last year.