If a basketball player puts up 33 points in a game, many would consider that a good night.
What does it say when a player is putting up points like that every night?
Zayne Goode is averaging 32.9 points per game through 20 contests this season. And that is a number that has gone up thanks to the way he's been scoring lately.
The senior from Stuart led the Hornets to a third-place in finish in the Pitt 8 Tournament last week and he dropped at least 40 on each team they met along the way.
Apparently that wasn't enough. Goode hung half a hundred plus one on the Pirates when he scored 51 on Tuesday night in Stuart's 77-54 win over Moss.
Following back-to-back trips to the Class 2A state tournament and a combined two-year record of 52-6, Stuart started this year with some tough losses. But the Hornets have won four of their last five, due in large part to the fact that Goode has averaged more that 40 points per game during that stretch.
Goode said things have just felt good lately.
"Shots have been falling," Goode said. "I've been getting to the hole, converting and-1's and getting my teammates open. It's been all coming together this week."
And it's not as if he hasn't had a host of different looks coming his way from opposing defenses.
"Well, I've been seeing a lot of box-and-ones. But then I was scoring pretty well off it, so they went to a triangle-and-two and put two on me.
"And I'll just get the ball and get through there and when someone will come up, usually someone else will cut and I'll hit them back door and it hurts them pretty good."
Goode has drawn so much attention from defenses this season, and Stuart head coach Michael Langley gave the reason why.
He's just that good.
"I've been in education for 30 years," Langley said. "I've been a coach for many years of that 30. And out of all the years that I've ever coached, he is the most talented player I've ever seen."
For the season, Goode is averaging nearly 33 points as well as nine rebounds and four assists per game. And he is making 90 percent of his free throws.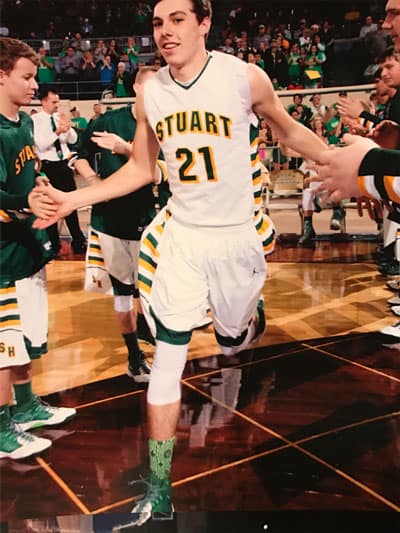 "You know, he's just one of those rare individuals. It has been a real blessing to know him on and off the court.
"I've worked with him outside the school. I've seen him on a personal level. I've seen the things he does in rodeo. Seriously, this is not a coaching line – that guy is one of the best athletes I've ever seen in my life. He's good at everything."
Goode spends time at school with Langley more than just in the gym. He is a teacher's assistant for Langley's language arts and English class.
"Generally speaking, he's happy when he comes to school," Langley said. "He always does what I need him to do. He never complains."
But it is clear that Langley is glad to have him on his basketball team for one more year.
"On the court, he is a leader. You know, a lot of guys, when it gets down to the big part of the game, they don't want the ball. Zayne Goode wants the ball. He wants to take that final shot. He has the confidence and that confidence comes from the skill he brings to the table."
And by all accounts, that is quite a bit of skill. Langley said he recently watched Goode drain 28 consecutive three-pointers.
"To sum it up, he's what I think of when I think of 'Hoosiers.' Just that smiling kid with the crew cut hair and he just the all-American thing.
"I'm not saying he's perfect. But his language is good and his personality is good. He's pleasant, he smiles all the time, and he has a good work ethic.
"What more could you ask?"
Goode comes across as a well-rounded person. Along with basketball, which he said he has been playing since he could run, Goode likes to hunt and compete and perform at rodeos. He does some ranching, as well.
"I have some cows that I get some calves off of. I do a little of all of it."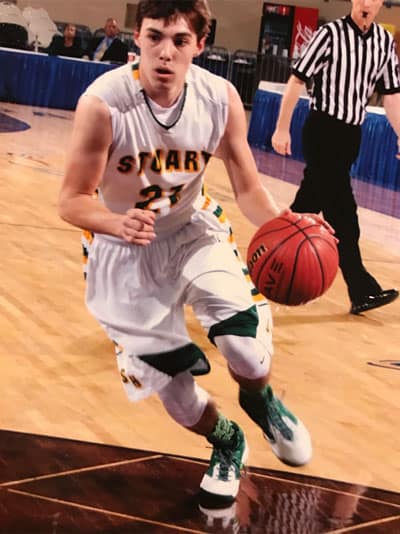 He said he would like to continue playing basketball at the next level and that he would like to pursue a business degree in college.
Goode also said he recognizes what he has received from being able to play this sport so well.
"It's been great. It's had a big impact on my life, giving me something to do. Making new friends and competing helps me a lot."
Whatever college gives him the opportunity to continue playing this sport at which he excels, that program will be getting an accomplished athlete and a quality person and teammate.
Stuart has four games left on the schedule before district play begins. All are on the road, beginning with a trip to Savanna on Friday night.