Being named an All-State athlete comes with the idea that a player has spent much time on the field or court working hard to excel in his or her sport. And has succeeded.
The notion of less time on the field of play, barring injury, doesn't seem to flow with receiving that kind of honor.
For Ethan Hollowell, still a varsity athlete, a little less time on the field has proven to be the right thing at the right time.
Hollowell is one of 27 athletes and eight coaches that have been named to the FCA All-State Class of 2015. They will be honored at a banquet in Oklahoma City on Wednesday, April 8. Oklahoma City Thunder player Serge Ibaka will be speaking at the event.
Hollowell is a former three-sport athlete. But as his high school years wound down, he has dropped down to just two sports. And it wasn't because of injury – it was a decision.
"This year, I'm in varsity basketball and varsity golf," Hollowell said. "I've participated in varsity baseball in the past, but God decided to take me in a new direction. With FCA, actually."
It was a big decision, not only to not play baseball as a senior, but also to not play baseball at Silo, a high school that has a rich tradition and is perennially at the top in that sport. Hollowell decided to spend more time focusing on his relationship with God and where that might lead after high school.
A transfer to Silo High School as a junior, Hollowell got involved in FCA through a casual contact with someone he had known for a long time.
"Mr. John Capps (who is the Area Rep for Southeast Oklahoma)," Hollowell said. "I was walking down the hall at Silo one day and he caught my attention. He had taught my sister in high school, so I ran over there to give him a shout and well, he invited me to FCA and that's where it all started last year."
As he let go of one passion in his life, he developed another one and has found it to have great value and also that the timing was right.
"I've seen a ton of doors open and doors that needed to be shut, shut.
"My mom had to have brain surgery the first semester my senior year and that was a big thing that we had no clue was coming. But God really opened that door just to be able to be there with her through the whole thing and to be able to pray with her and to be with my family. And just to be there to be a prayer warrior for my mom in that time of need.
"So it was a blessing to have that time to be intentional with my family and to grow together."
Hollowell and Durant's Alexa Richards, along with Silo coach Bobbie Pratt, representing the Southeast Oklahoma area in this year's FCA All-State class.  The honor is given to athletes who must be recommended for it and who have exemplified the values of FCA: Integrity, Serving, Teamwork and Excellence as students in the classroom and athletes in the locker room.
Capps gave a description of what kind of student this is.
"Being a part of their FCA huddle and a  leader. Basically to just have a heart for mission work on site on their campus. They have to nominated by their huddle leaders and not everyone qualifies.
"Ethan is an outstanding young man and is highly recommended by his huddle leader. He's very involved and very Christ-centered. He has a heart for missions and a heart for people.
"He's a rare breed and a great young man. God's going to do great things through His life."
"It's for how we portray Christ on and off the field," Hollowell said, and proceeded to give the credit to others.
"And, you know, I don't think we'd be able to be in that situation without our parents and without our coaches being able to put us in that position and being that example for us. They're the ones that lead us and show us the example."
One of those people in particular is someone who will be with him in OKC on Wednesday.
"For me personally, you can learn a ton of things from all coaches just by watching people and seeing how they treat people. And for me, it's been Ms. Bobbie Pratt. She's the cross country coach and track coach at Silo, and the math teacher.
"And it's tremendous how I see her just be Jesus to people. She's that teacher that every school has that kids come to when they don't have a place to go and just talk and open up. And she's really been a blessing to me."
He also reserved praise for the person who got him involved in the first place.
"A big shout out goes to John Capps," Hollowell said. "Without his sacrifice that he's made in traveling all the way from Idabel to Kingston to Madill and the other schools all around here, this thing doesn't work out without the sacrifice that he's made."
As participating in athletics offers lessons that apply throughout life, Hollowell said FCA has done its part to help him grow and prepare for the future.
"It actually has tremendously. It really gets you to step outside your comfort zone. Whether it's doing some silly games in front of the kids at school or being at an event with multiple different schools with nobody that you know and just making that connection with people and really stepping out of your box and being bold.
"You know, Christ has called us to be bold as followers of Him, to proclaim our faith to the nations. And that's really helped me around Oklahoma just being able to step out of my comfort zone. And it's really prepared me."
Hollowell might be able to compete athletically on the college level, but he said FCA has given him the chance to do things he knows he will do after high school.
"I've gotten some opportunities to speak to some schools. And that's what I want to do – I want to be a pastor. So in the fall I'll be moving to Colorado Springs, Colo., to pursue a degree in biblical studies. Charis Bible College."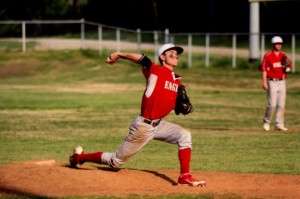 And his reminder to fellow students is that FCA is not just for those competing on the field or court.
"Anybody is welcome. You don't just have to be an athlete to go. And I think that's one thing that should really be impressed on at the schools.
"Christ picked the fishermen, and the ones who thought, 'Oh man, I can't do anything.' But you know, with Christ we can do anything. And I think that's where a lot of kids see FCA as a place that you have to be an athlete to go there. You have to have a talent, a gift, to go there. When really, we all have gifts and FCA is a good place to use them."
Read our last FCA Spotlight-There is more to Hope Salzman than just running