Rivals in the Red River Athletic Conference should be aware.  The Langston Lady Lions are back on the prowl.
Langston defeated tenth-ranked Our Lady of the Lake, 106-77, on Monday night at Gayles Fieldhouse.  The win is the fourth straight for the Lady Lions, who are making some noise as the 2013-2014 season is hitting the home stretch.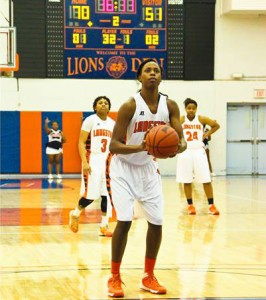 Lynette Holmes, the NAIA's leading scorer, led the way again for Langston (12-8, 8-4 RRAC) with an amazing 50 points.
LU coach David Johnson almost understated the feat in talking about how smoothly Holmes performed.
"It was a solid effort," Johnson said.  "It was so good, you didn't even see the 50."
With the game in hand in the closing minutes, Holmes had gone to the bench, having scored 48 points.  That close to a milestone number, Johnson put her back in the game for a little longer.  But only after a little prompting.
"I didn't know she had 48 until my assistant coach was saying, 'Hey, coach, she's got 48.  Let's put her back in and go ahead and let her get 50.'
"And I said, 'What are you talking about?'  Then the announcer said it and I thought, 'Uh-oh. OK.' So we put her back in and she got it quickly."
The 50-point night from Holmes broke the old Langston record of 41, which was achieved twice.  Connie Clark put in 41 against OPSU on Jan. 29, 1981, and Sanetra Jackson duplicated it against Oklahoma Baptist on Dec. 8, 2009.
It's the first time anyone has scored half-a-hundred at the university level in Oklahoma this season.
Her points came on the strength of 20-of-31 shooting from the field while making all eight free throws she attempted.  Add to that number the 10 boards Holmes pulled down and credit her with a double-double.
Johnson talked about how the pace of the game helped to get the high numbers.
"It was a lot of transition play, but we pounded the ball inside a lot," Johnson said.  "Since they pressed us so much, we just broke the pressure and we attacked the basket.  That's how we ended up getting all those transition points.
"It was a very impressive game to beat the No. 10 team in the country."
Alex Adekunle had a respectable 22 points for the Lions on the evening as well and Alanna Lee chipped in nine.  As a team, the Langston shot 59.7 percent from the field.
The Lady Lions are putting things together for Johnson, who preaches a simple philosophy.
"I think they're buying into it now," Johnson said.  "There are only two things I always tell them it's going to come down to: defense and rebounds.  If we can defend people and we can rebound, we can be in games.
"We can score the ball, but can we rebound and stop people?  And at this point, it seems like we can.  I'm really happy about our progress.  The kids are excited and I think they're starting to believe that this could be something special.
"We started off kinda slow, but we played some good competition, playing some of the top teams in the nation.  And we've really improved in each game and at this point, we're reaching our peak.
"It's like it's just coming around."
Monday's win was just another step after some other important wins in February.  Langston also defeated RRAC foes Jarvis Christian, Texas College and Huston-Tillotson.
"Those were big wins this weekend and we've needed them. We got one back because Jarvis beat us at Jarvis and Huston-Tillotson, we beat them at their place and that was definitely a big win because it so hard to go on the road and get a win."
And Johnson said a big part of this was the improved play of his Holmes and Adekunle.
"Lynette has really stepped up her game.  She's an athletic kid who can put it on the floor and can shoot it.  You know, it's just a blessing that we get a kid of that caliber to come here.
"And Alex has definitely brought her game up in the last few games.  She has played powerful for us in the post and can step out and shoot the trey.  And she really has a high IQ for the game.
"And with those two, that's a pretty good combination."
Johnson said that's everyone is happy with the victories of late and the direction the program is heading.  But he is quick to pass the credit along.
"It's a four-game winning streak and we're very excited.  We're looking forward to just keep building and to keep going at just the right time.
"I'm just so excited for these young ladies.  That's the biggest thing – it's all about them"