From SGU Sports
Brad Collins, Sports Information Director
SHAWNEE – St. Gregory's Abi Housecroft completed a career day with big score. Her golden goal in double overtime lifted the Cavaliers to a 2-1 win over Oklahoma City Tuesday at Fr. Victor Roberts Field. SGU notched its seventh win of the season – the most since 2010.
It was the first victory against the Stars in 13 years for SGU, which moved into a four-way tie for fourth in the Sooner Athletic Conference standings – just one point back of third-place USAO with three games to play.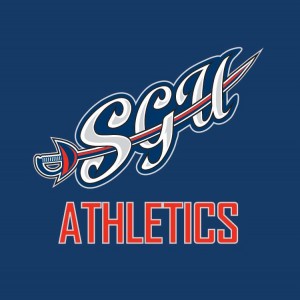 Housecroft, a senior from Leeds, England, accounted for both of her team's scores Tuesday. She set a new personal single-season mark with her ninth and 10th goals of the season, notching the eighth multi-score game of her career.
Housecroft gave the home team the lead in the 58th minute when she dribbled past a pair of defenders and deposited the ball in the right side of the net. OCU countered 20 minutes later when Keeley Brewer headed in a corner from Britani Tripp.
After the teams remained knotted through the first overtime, Housecroft ended it just two minutes into the second extra session. She outran a Star defender down the center of the field and snuck the ball just past OCU keeper Kirsten Thomas.
OCU (5-8, 3-3 SAC) lost despite outshooting SGU, 17-9. The Cavs put five of their nine on goal compared to 7 of 17 for the Stars. Jena Flewelling went the distance in goal for SGU, posting four saves.
The Cavs (7-6, 3-3 SAC) return to action Saturday at home against SAGU (Texas). Kickoff is set for 1 p.m. at Fr. Victor Roberts Field.