From OBU Sports Info.
Jordan Beech, Athletic Media Relations
SHAWNEE – A pair of Lady Bison soccer players, Kenzi Bice and Kelsey Bumgarner, have broken into the squad for Oklahoma City FC and have contributed to the club's success through the first month of the Women's Premier Soccer League season. The WPSL is the largest women's soccer league in the world and is geared towards aiding collegiate players maintain fitness prior to the NCAA season. NCAA eligibility is not effected by competing in the WPSL.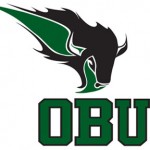 Through seven games, Bice has featured four times for OKC FC. She has made good use of her appearances, assisting once in an 8-0 romp of the Texas Titans at the beginning of the month.
Appearing in three games, Bumgarner has helped the defense in limiting the opposition to eight goals, tied for second fewest in the Southwest Conference of the WPSL. The squad's goal differential of +16 stands alone as the second-best mark among Southwest teams.
"It's great to see that OBU is being represented by Kenzi and Kelsey at such a high level, and with such success. The work they and their coaches have put in, from the time they started playing at very young ages to now, is bearing fruit. I'm happy for them."
With seven games to go, Bice and Bumgarner have helped guide Oklahoma City FC to a third-place standing in the Southwest Conference table at 4-1-2.
Fans have their first opportunity to catch this Lady Bison duo in action in the green-and-gold on Thursday, Sept. 1 against Jarvis Christian College at the OBU Soccer Complex.