From OBU Sports Info.
Ray Fink, Director of Athletic Media Relations
ARKADELPHIA, Arkansas – Oklahoma Baptist picked up its first Great American Conference regular season title as the Lady Bison tennis team scored a 9-0 win over Ouachita Baptist to finish 7-0 in the league Saturday.
"I had a lot of confidence in our girls from the beginning because we had a full team of talented players," said OBU Coach Peter McCorkle. "When we won the Southeastern match I felt like we could win the conference."
The Lady Bison cruised to the win without losing a set in singles after a combined 24-5 doubles thumping.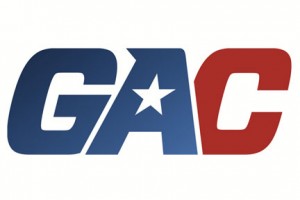 Anastasiya Baranova, Kateryna Shkot, Olivia Charvat, Madeleine Boepple, Alex Bowers and Ashlynn Abbe all won in singles. Shkot improved to 17-0, Boepple picked up her 17th win, Charvat her 16th, Bowers her 15th and Baranova her 12th. 
Baranova and Shkot improved to 17-0 in doubles with Boepple and Charvat getting their 15th win. Ashlynn and Caroline Abbe also won.
McCorkle was pleased seniors Baranova and Ashlynn Abbe were part of the championship.
"Those two girls have been so important in our success," McCorkle said. "Anastasiya is going to be known as one of the best players to ever play here and both of them have been a big reason other players have wanted to come here. We went to nationals for the first time their freshman year."
The Lady Bison finish off the regular season at Central Oklahoma Tuesday and begin NCCAA Central Region action in Abilene, Texas, next weekend.
Oklahoma Baptist 9, Ouachita Baptist 0
Singles competition
1. Anastasiya Baranova (OKLABAP) def. Vanja Bogetic (OUACH) 6-2, 6-2
2. Kateryna Shkot (OKLABAP) def. Mallory Tabler (OUACH) 6-1, 6-2
3. Olivia Charvat (OKLABAP) def. Valeriya Mansvetova (OUACH) 6-3, 6-2
4. Madeleine Boepple (OKLABAP) def. Polina Tsymbalova (OUACH) 6-2, 6-0
5. Alex Bowers (OKLABAP) def. Camila Ferreira (OUACH) 6-0, 6-0
6. Ashlynn Abbe (OKLABAP) def. Baylee McBride (OUACH) 6-1, 6-2
Doubles competition
1. Anastasiya Baranova/Kateryna Shkot (OKLABAP) def. Vanja Bogetic/Mallory Tabler (OUACH) 8-2
2. Olivia Charvat/Madeleine Boepple (OKLABAP) def. Polina Tsymbalova/Baylee McBride (OUACH) 8-0
3. Ashlynn Abbe/Caroline Abbe (OKLABAP) def. Valeriya Mansvetova/Camila Ferreira (OUACH) 8-3