By Levi Convirs, MACU Sports Information Director
Fort Worth, Texas — The Mid-America Christian University Lady Evangels used a huge run at the end of the first half to take control and went on to their seventh straight victory, 76-67 over the Texas Wesleyan University Lady Rams in their Sooner Athletic Conference opener Wednesday afternoon (Dec. 4) in Fort Worth, Texas. The Lady Rams received three votes in the NAIA Preseason Top 25 Poll.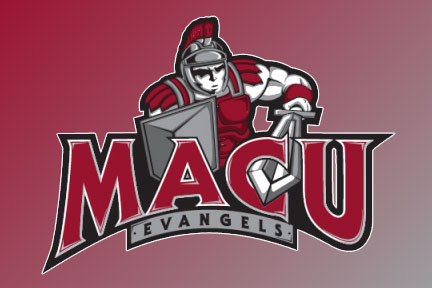 The victory continues the Lady Evangels' longest win streak since joining the NAIA in 2007.
MACU trailed most of the first half and was down 33-26 when they made their charge at the 3:04 mark.
Maclayn Massey scored seven points to fuel a 13-0 spurt to close out the half and put the Lady Evangels on top 39-33 at the break.
A layup by Ashlee Ferguson in the opening minute of the second half extended the burst to 15-0 before the Lady Rams scored six straight to break the string and come within two.
The Lady Evangels (7-1, 1-0 SAC)) answered right back as a three by Massey and eight straight points from Cheyenne Been fueled a 17-2 spurt that created the largest lead of the game to that point for MACU at 58-41 with 11:28 remaining.
After a three-point play by Takoia Larry cut the lead to 60-46, Lauren McKinney caught fire and scored eight straight points to give the Lady Evangels a commanding 68-48 edge at the 6:31 mark.
TWU (3-5, 0-1 SAC) wouldn't go quietly though and scored nine straight to trim the deficit to 11 and then came as close as seven when a tip-in by Kashay Barnes made it 72-65 with 1:58 left.
But two free throws each by Been and Adaugo Osuala down the stretch closed out the victory for the Lady Evangels.
Massey led all scorers with a career-high 20 points on 7-of-11 shooting from the field and 3-of-7 from three-point range.  Been's 16 points were also a career-best as she knocked down 4-of-6 from the perimeter.  McKinney added 14 points along with a team-high seven rebounds.
Larry paced four Lady Rams in double-figures with 17 points and also recorded a game-high 14 rebounds. ToiEasha Cooper also had a double-double of 11 points and 10 boards.
MACU was out-shot 48.1 percent (25-of-52) to 35.2 percent (25-of-71) and out-rebounded 43-38, but offset that by forcing 30 turnovers and out-scoring TWU 29-12 in points off turnovers.
The Lady Evangels also out-scored the Lady Rams 21-8 on the fastbreak and held a whopping 52-8 edge in bench points.
MACU will go for its eighth straight win at home Saturday afternoon (Dec. 7) against USAO at 3 p.m. inside the Gaulke Activity Center.