Langston just missed putting up 100 points in front of the home crowd at Gayles Fieldhouse on Saturday night on the way to a 99-45 routing of the University of the Southwest.
Reaching the century mark may have been a short term goal as the evening wore on, but it was relatively small and not to be compared to the ultimate goal in the contest – get the win. Teamwork was on display as 20 assists were dished out and six players scored in double figures.
The Lady Lions have done plenty of winning this season.  After a 17-game win streak was stopped, a new one has been started and is up to four.  LU is 21-1, at the top of the Red River Athletic Conference and ranked No. 7 in the country.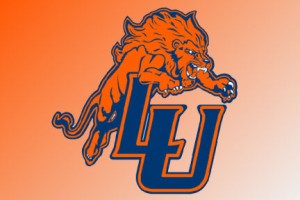 Fans may have looked ahead to what Lynette Holmes could do in her senior campaign this season following a year in which she led the country in scoring and had the target on her back in every game.
She continues to shine and lead for the Lady Lions. But coach Cheryl Miller says a big difference this year is that Holmes doesn't have to shoulder as much of the load.
"She's certainly our All-American, in my opinion," Miller said. "Lynette's having a tremendous season. I look at the fact that she's not getting as many touches and she doesn't need to shoot the ball in volumes like she did last year because we've surrounded her with quality players that in their own right could lead any other team in scoring.
Miller said Holmes has accepted that role and is learning as she goes.
"I think she's still growing in the leadership department with this team. She's trying to rebound a little more. She's trying to be a little more diversified with the ball at the offensive end. Her passing is getting a little better.
"Defensively, we just need her to step it up, but I've seen steady improvement and that's the direction we want to go with Lynette."
Holmes is scoring only 19.7 points per game, eighth on the NAIA's scoring list, but down from 26.5 in 2013-2014. But the diversification of the game Miller mentioned can be seen in that she is leading the team now not only in scoring, but also in rebounding, steals and blocks.
For Holmes to have the freedom to grow, other players have had to come to the forefront. Over the course of growing with their new coach and growing as team, the Lady Lions have done just that.
"A player that used to be under the radar was Jewel Rogers," Miller said. "She's just really stepped it up, not only offensively, because we knew she was going to be a deep threat, it's at the defensive end that she's really picked it up. And I've been really happy with the fact that though every game, coming in she's our three-point assassin, but defensively now she sets the tone for us.
Rogers is second in scoring with 13.2 ppg and is shooting 39.3 percent from behind the arc.
Miller also pointed out T'Keya Mason, scoring in double figures as well and leading the team in assists with 71.
"T.K. is just the glue of the team. Offensively, defensively, whatever we need, she's always the person dialing that number."
The LU guards get attention, but there has also been solid play on the inside from players like Morgan Lee, who caught her coach's attention early on.
"I've been waiting for Morgan to basically have that breakout season," Miller said. "We saw bits and pieces during our preseason. And there was an issue with foul trouble. I think she turned the corner on that, but then she would get back into foul trouble or miss some layups and get down on herself."
Lee averaged 15 points and eight rebounds per game in a three-game stretch late in January.
"I think she's starting to finish around the basket and not making careless fouls that get her into early foul trouble. She's starting to feel a little more comfortable and confident in her game and it's paying off."
Lulu Perry had been noticeably absent from the stats for a few games, but the junior guard came back this weekend after sitting out with an injury and averaged 13.5 points and 3.5 assists in the wins.
"She hurt her shoulder during the Huston-Tillotson game and came down awkward after taking a charge and she didn't fracture anything, it was just a strained shoulder," Miller said.
"And she had a tough time just raising her shooting arm, so we just sat her down. We've missed not only her scoring obviously, but her leadership on the court."
As has been the case this season for Langston, there was plenty of talent and desire to win to go around. In Perry's absence, a freshman stepped in and may have also shown a glimpse of the future of the team.
"We've had another point guard that has stepped up and that Jhordyn Patton, who has just been sensational.
"Not a lot on the stat line except for what a coach really loves in her point guard – zero turnovers. And she's just been steady with the team."
Langston winds up a four-game home stand, hosting Our Lady of the Lake and Huston-Tillotson this weekend.