From RSU Sports
Tim Hansen, Sports Information Director
CLAREMORE – The Rogers State men's basketball team hit two free throws with 23 seconds remaining to get a 85-82 season-opening victory over Colorado State-Pueblo on Friday at the Claremore Expo Center. With the win, the Hillcats stayed a perfect 10-0 all-time in their home season openers.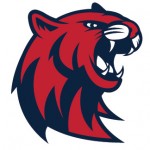 After a technical foul was issued to the Thunderwolves with 23 seconds remaining, Jeylyn Sharpe hit the two free throws to put the Hilcats up, 84-82. The RSU defense stepped up in the final seconds, forcing a turnover with only 10 seconds remaining to give the navy and red possession.
The Hillcats escaped a press from the Thunderwolves to allow time to run off the clock before a foul with 1.7 seconds remaining. Sharpe again hit from the free throw line for an 85-82 score. He missed the second attempted, but all the Thunderwolves could get was a full court heave at the buzzer as the Cats got the victory.
The Hillcats erased a 10-point deficit in the final seven minutes. Trailing by 10 after a 3 from CSU-Pueblo, RSU started with timely 3s of its own from Johnathon Buckley and Travis Hester to cut the margin to four at 75-71 with 4:57 remaining. Newcomer JD Tisdale also hit a 3 with 2:54 left for an 81-78 score. The Hillcats tied the score at 82-82 on a layup from Sharpe with 38 seconds remaining before the final free throws for the win.
The starting lineup scored 76 of the 85 points for RSU. In his first appearance in the navy and red, Tisdale scored a game-high 23 points on 8-of-13 shooting from the field in 35 minutes. Fellow newcomer Baron Smith Jr. totaled 19 points on 6-of-8 shooting. Sharpe matched Smith with 19 points, and also in double figures was Jordan Huffman with 12 points.
RSU was hot from the field, shooting 52.7 percent, including 55.6 percent in the second half. The Hillcats went 5-of-15 shooting from 3 for 33.3 percent.
The Thunderwolves finished with six players in double figures led by Will Newman and Stevan Radokovic each with 15 points.
The Hillcats (1-0) continue the two-day conference challenge with No. 20-ranked Midwestern State on Saturday (Nov. 12) at 4 p.m. at the Claremore Expo Center. Coverage will be available on the Hillcat Network at rsuhillcats.com/live.