MACU Sports
Levi Convirs, Sports Information Director
SHAWNEE – The Mid-America Christian University Women's Basketball Evangels reached 19 wins for the first time since joining the NAIA in defeating the St. Gregory's University Cavaliers 90-61 tonight (Feb. 23) in an important Sooner Athletic Conference contest at the Sumner Field House in Shawnee, Okla.
The win, coupled with a Texas Wesleyan loss at No. 17 John Brown tonight, puts the Evangels in great shape to host a SAC tournament quarterfinal game next Tuesday night (Feb. 28). The official SAC tourney pairings are set to be announced Sunday (Feb. 26).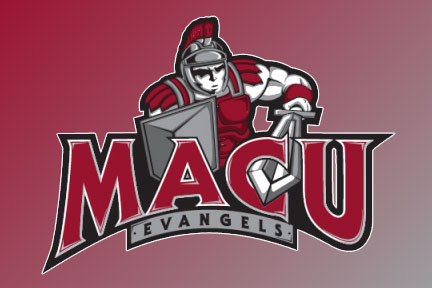 "I'm so proud of our kids for everything they've accomplished this year!" MACU head coach Hannah Moeller said.
"We have a lot left in front of us that we're hopeful to achieve, but the progress we've made to this point is a testament to their hard work and unselfishness. We're looking forward to finishing the year strong."
The Evangels were bolstered by a season-high 21 points from D'Shala Powell and Jessica Fairley posting a career-high 17 points along with career-best totals of 10 rebounds and six assists.
MACU fought off a slow start that saw it fall behind 13-4 with 4:36 left in the first quarter.
With the deficit at 15-7, threes from Nevada Denton and Mikki Flores helped the Evangels close the quarter on a 7-0 run to come within one.
Flores then opened the second quarter with another trey to give the Evangels their first lead of the game.
It proved to be a lead they wouldn't relinquish the rest of the way, as MACU pulled away by outscoring the Cavaliers 32-12 in the second period.
Powell scored 10 points in the quarter and Fairley finished it out with the Evangels' last seven points for a commanding 46-27 lead at the break.
MACU cruised from there, never letting the lead dip below 16 points in the second half and the final 29-point margin was the Evangels' largest of the night.
Tamiyjah Smith also scored in double-figures with 10 points for the Evangels (19-9, 10-7 SAC), while Flores finished with nine points and a team-high seven assists.
Kylee Tatum led the Cavaliers (2-22, 0-17 SAC) with 18 points and Lauren Godbold had 15 points. Danielle Butler scored 10 along with seven assists and Shanques Garrett had a team-high nine boards.
A big element of the Evangels' win was their domination of the interior. MACU out-rebounded SGU 55-35 overall and outscored the Cavaliers 38-24 in the paint and 20-6 in second chance points.
The Evangels will next wrap up the regular season at home Saturday afternoon (Feb. 25) against No. 7-ranked and SAC regular season champion Oklahoma City University. Tip-off is set for 3 pm inside the Gaulke Activity Center.