From MACU Sports Info.
Levi Convirs, Sports Information Director
OKLAHOMA CITY — With the score tied with 3:05 left, the Mid-America Christian University Lady Evangels scored 10 straight clutch points and went on to a 78-71 victory over the second-seeded Colorado Christian University Cougars today (Mar. 14) in the National Christian College Athletic Association (NCCAA) Central Regional semifinals on the campus of Oklahoma Christian University in Oklahoma City.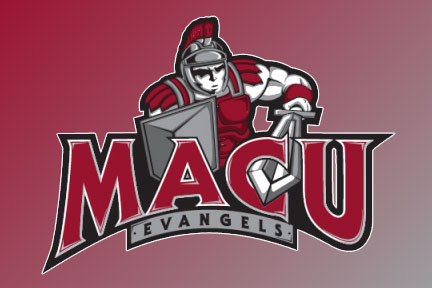 The Lady Evangels are the third-seed and will face top-seeded and tournament host Oklahoma Christian University in the championship game tomorrow afternoon (Mar. 15) at 2 p.m. The winner will receive an automatic bid to the NCCAA National Tournament.
It was 68-68 when April Williams hit a three to get the push started.  Kelsie Dutton then followed that with a three-point play that put the Lady Evangels in front by six with 2:23 left.
Ashlee Ferguson then got free for a layup and a jumper by Maclayn Massey capped the run with 42 seconds remaining.
Following two free throws by Jessica Murdoch that tied the score at 68-68, the Lady Evangels forced seven straight misses over the next 3:02 before Murdoch hit a late three with only three seconds left.
The Lady Evangels got off to a quick start and led 18-13 in the first half when the Cougars went on a 12-1 spurt to lead 23-19 at the 6:27 mark.
The Cougars went on to lead 36-31 at the break.
Ferguson helped the Lady Evangels start the second half strong with 10 points of a 14-2 run out the locker room for a 44-38 lead.
It was 44-40 when Lauren McKinney hit consecutive threes to spark a 8-3 spurt for a nine-point lead of 52-43 with 12:37 left.
The pendulum again swung as Murdoch scored 11 of 13 straight points for the Cougars over the next four minutes that put CCU back in front 56-52.
Ferguson scored a team-high 25 points for the Lady Evangels and nailed 5-of-8 from beyond the arc. McKinney posted a double-double of 20 points and 10 rebounds, while Massey added 11 points.
Murdoch paced the Cougars with a game-high 26 points.  Kate Louthan scored 15 and Christina Whitelaw added 10 points.
The overall shooting percentages were fairly even, with the Lady Evangels shooting 41.7 percent (30-of-72) and the Cougars at 40.3 percent 31-of-77).
But a big key to the Lady Evangels' victory was their performance at the three-point line, where MACU hit 54.5 percent (12-of-22) compared to only 14.3 percent (3-of-21) for the Cougars.